Italy investigates whether the wrong man was arrested in refugee smuggling case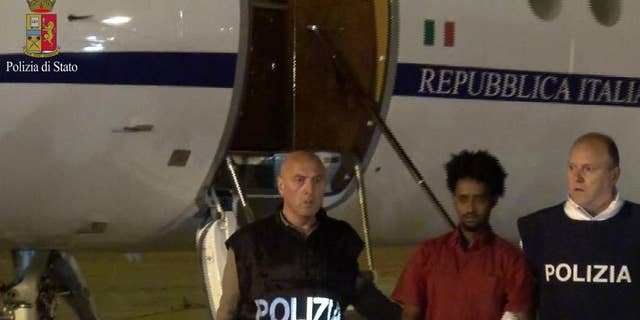 NEWYou can now listen to Fox News articles!
Italian authorities said Thursday they're looking into claims that they arrested the wrong man in a major migrant-smuggling investigation.
Italian police announced Wednesday that Medhane Yehdego Mered, a prime suspect in the trafficking investigation, was in their custody, and released a video of a man they said was Mered being escorted off a plane in Rome from Sudan, where he was arrested two weeks ago. Authorities said he was involving in smuggling migrants from sub-Saharan Africa via lawless Libya and across the Mediterranean to Europe.
But Meron Estefanos, a Sweden-based Eritrean broadcaster who said she has interviewed Mered in the past, told The Associated Press the man in the video was not Mered, but Medhanie Tesfamariam Kidane, an Eritrean refugee living in Sudan.
"I realized it was two different people," said Estefanos, who is well known in the Eritrean diaspora. "Many people started calling me saying this is the wrong person."
She said authorities may have gotten the two men mixed up because they have similar first names.
"There is all kinds of evidence that this is the wrong person, so sooner or later they will have to release him," Estefanos said.
One of Kidane's sisters said her brother was living a "normal" life in Sudan and had nothing to do with human smuggling. She found out about the arrest from another sister in Sudan and said she recognized her brother in the images from Italy.
"I'm shocked. My brother is innocent. He hasn't done anything," Hiweet Berhe Tesfamarian Kidane, said, speaking by phone from Oslo, Norway, where she lives. She said her brother is 27 years old, whereas Italian police say Medhane Yehdego Mered is 35.
Chief Prosecutor Francesco Lo Voi in Palermo, Italy, said his office was checking the reports that authorities had mistaken the identity of the suspect.
"We are undertaking the necessary checks, but this seems unusual," he told The Associated Press.
Prosecutor Maurizio Scalia, who had joined Lo Voi at the press conference announcing the arrest on Wednesday, had no comment.
Britain's National Crime Agency, which was also involved in the investigation, said it was aware of a report that the wrong man was arrested but that it was too soon to speculate.
On Wednesday, Italian authorities said the suspect played a key role in a human smuggling network moving millions of euros, and called him "a character without scruples and without any respect for human life."
So far this year, nearly 48,000 migrants saved at sea from smugglers' boats have been brought to Italy, Premier Matteo Renzi said Wednesday, compared with 51,000 the same time last year. More than 2,800 lives have been lost, most on the route to Italy, with the vast majority disappearing at sea, according to the International Organization for Migration.