Israel's UN envoy calls on world to 'declare war' on anti-Semitism
The United Nations Wednesday hosted a special session on the fight against anti-Semitism and other forms of hatred at which Israel's U.N. ambassador urged world powers to "declare war" against anti-Semitism.
Danny Danon recommended that the U.N. produce an annual investigative report on anti-Semitism, that the U.N. Secretary-General appoint a special envoy for combatting anti-Semitism and that the global body add "ending anti-Semitism" to the list of so-called "sustainable development goals" it has set itself. The U.N. currently has set itself 17 such goals to meet by 2030, including climate action, education, zero poverty levels, and full gender equality.
SENATE EXPRESSLY CONDEMNS ANTI-SEMITISM AFTER HOUSE 'CAN'T BRING ITSELF' TO DO THE SAME
Danon also called for stricter digital controls, including the removal of anti-Semitic social media accounts. He said more education and training of law enforcement personnel was needed and said countries should take "unequivocal action to remove all anti-Semitic politicians from political office," in a possible swipe at some members of Congress.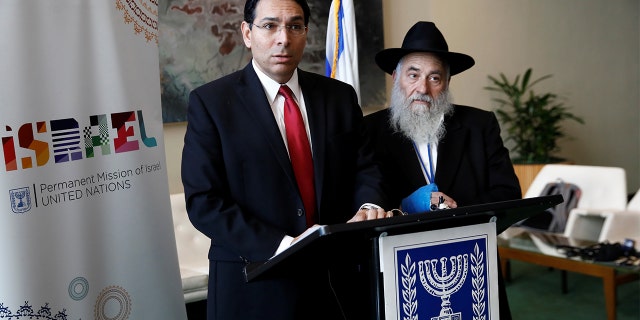 The meeting, which was organized by Danon and co-sponsored by the U.S., Canada and the European Union, featured remarks from Rabbi Yisroel Goldstein, who was wounded in an April shooting at a Poway, Calif., synagogue that killed congregant Lori Kaye and injured two others, including an 8-year-old girl.
"The best way to fight the darkness of hate is to do more good acts of love and kindness," Goldstein said from the General Assembly rostrum, with his hands still bandaged from the attack. "We must become proactive ambassadors of light."
HERO ARMY VET DESCRIBES LOOKING INTO EYES OF SYNAGOGUE SHOOTER AS HE RUSHED TO STOP HIM
The Poway shooting came just six months after the deadliest attack on the Jewish community in U.S. history, in which 11 worshippers were killed by a white supremacist gunman at the Tree of Life synagogue in Pittsburgh.
Acting U.S. Ambassador to the U.N. Jonathan Cohen called for a united front in attacking the issue: "We need to call out anti-Semitic rhetoric from government officials and other public figures. We need to educate our youth and our citizens about historical fact and teach them to stand against hate."
Cohen noted that the U.S. has devoted significant resources to counter the intolerance and xenophobia that targets Jewish, Christian, Muslim and other minority communities across Europe.
LIBERAL SITE RIPS HOLOCAUST MUSEUM FOR 'DREADFUL' INTERVENTION IN 'CONCENTRATION CAMPS' DEBATE
U.N. Secretary-General Antonio Guterres reminded the audience that the Holocaust was "only as far back as a single average human lifespan" and noted that while Adolf Hitler and Nazi Germany had been defeated in World War II, "anti-Semitism has not been extinguished. Far from it."
Guterres reiterated calls for more to be done on combatting extremism and hatred in the digital realm and said that he had asked officials to come up with a plan to determine what the UN can do to protect the "safety and sanctity of religious sites."
CLICK HERE TO GET THE FOX NEWS APP
However, Anne Bayefsky, the director of the Touro Institute on Human Rights and the Holocaust, told Fox News that the Guterres must do more to address anti-Semitism, which she said goes largely unchecked throughout the global organization.
"The U.N. Secretary-General paid the usual U.N. lip-service to the Holocaust, and then declared the United Nations fights the ills of bigotry and anti-Semitism as a matter of its very identity," Bayefsky said. "That's false. The U.N. provides a global platform to promote anti-Semitism dressed-up as anti-Zionism, the hatred of Israel, and falsehoods about Israeli crimes."
"I fear the truth is that as long as we believe that the United Nations - an organization controlled by forces antithetical to human rights," she added, "is part of the solution to limiting the reach of anti-Semitism, the less likely we will ever get there."