Israeli President Apologizes To Brazil's Rousseff Over 'Diplomatic Dwarf' Comment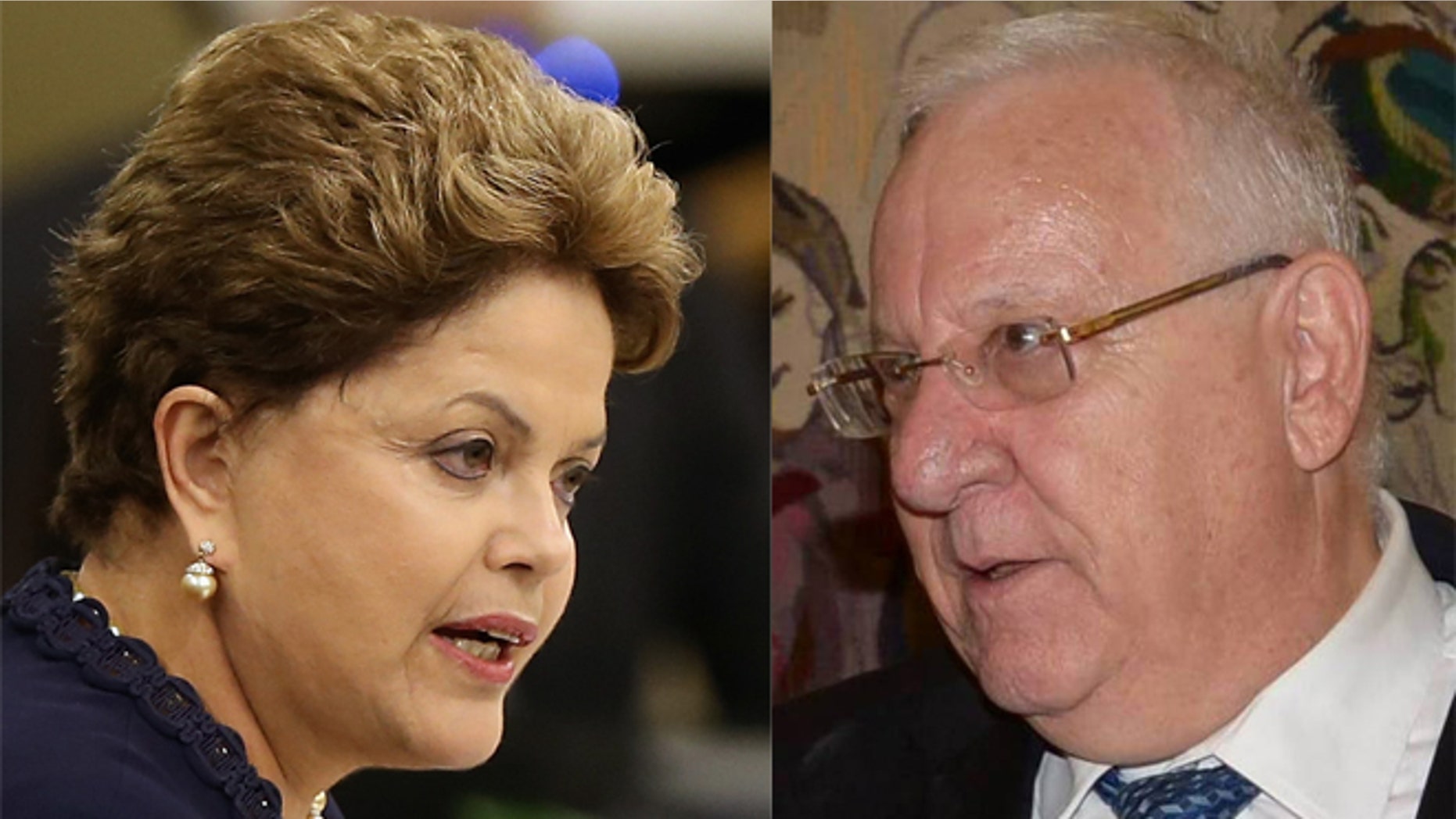 The second most powerful man in Israel apologized for comments that an official from the country's foreign ministry made about Brazil, following the South American nation's condemnation of Israeli actions in the Gaza Strip.
Israeli President Reuven Rivlin called his counterpart in Brazil, Dilma Rousseff, on Monday to apologize for a comment made by Yigal Palmor, of Israel's Foreign Ministry, who called Brazil a "diplomatic dwarf."
While the Israeli government did not reveal the content of the conversation, Brazilian media reported that the two had "a long conversation" in which Rousseff acknowledged Israel's right to self-defense and voiced strong disapproval of the rocket attacks on Israel from Hamas fighters in Gaza. Rousseff, however, remained adamant in her condemnation of Israeli air strikes and troop action in Gaza that has left over 2,000 people dead.
The diplomatic snafu between the two countries began when Brazil recalled its ambassador to Israel back to Brasilia.
"The Brazilian government vehemently condemns the Israeli bombardment of Gaza with disproportionate use of force," a statement by the Brazil Ministry of External Relations said, according to The Jerusalem Post. "It equally condemns the firing of rockets and mortars from Gaza into Israel."
Israel launched a massive air campaign on July 8 to stop relentless Hamas rocket fire into Israel, and expanded it last week to a ground war aimed at destroying tunnels the military says Hamas has constructed from Gaza into Israel for attacks against Israelis.
Rousseff made the comments on July 28, calling Israeli strikes "a massacre" while speaking with local media outlets from the presidential residence in Brasilia.
In an article posted on the website of the newspaper Folha de S. Paulo, Rousseff says that "I think what's happening in the Gaza Strip is dangerous. I don't think it's genocide, but I think it's a massacre."
Brazil has deep economic and military ties with Israel, giving more weight to each nation's condemnation of the attacks in Gaza. In the last 15 years, Brazil has bought and leased both weapons and fighter planes from Israeli – worth billions of dollars.
The Associated Press contributed to this report.
Follow us on twitter.com/foxnewslatino
Like us at facebook.com/foxnewslatino