Israel PM Netanyahu visits Argentina seeking to bolster ties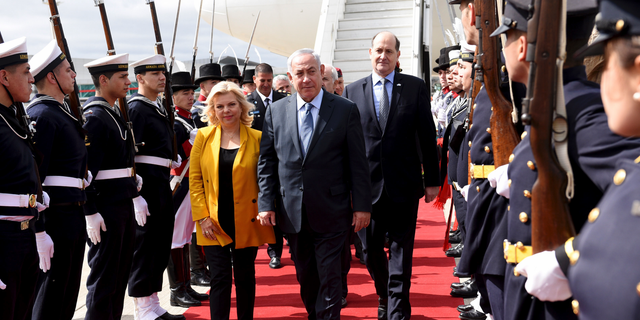 NEWYou can now listen to Fox News articles!
BUENOS AIRES, Argentina – Israeli Prime Minister Benjamin Netanyahu arrived in Argentina on Monday for a two-day visit seeking to strengthen ties with the country that has Latin America's largest Jewish community.
Netanyahu's arrival marked the first visit by an Israeli leader since the creation of Israel in 1948. He is also scheduled to visit Colombia and Mexico before going to New York, where he will address the U.N. General Assembly on Sept. 26.
Netanyahu will meet with President Mauricio Macri on Tuesday and is also expected to press for answers on two unsolved terror attacks in Argentina.
Israel and Argentina have long accused Iran of being behind 1990s bombings in Buenos Aires that killed 29 people at the Israeli Embassy and 85 people at a Jewish community center. Iran has denied any wrongdoing.
The leading prosecutor investigating the attack on the community center was found dead in his apartment on Jan. 18, 2015. That case remains unsolved.