ISIS video purportedly shows American boy, 10, vowing to 'defeat' Trump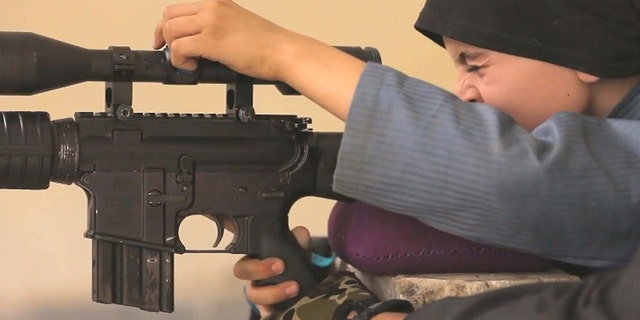 A boy with a sniper rifle claiming to be the son of American parents is the new face of Islamic State propaganda, vowing in a video that the bloodthirsty militants will "defeat" President Trump, the "puppet of the Jews."
The boy – who says he is 10 years old and goes by the name of Yusuf – claims he is the son of a U.S. veteran who fought in the Iraq War and that he immigrated to Islamic State territory with his mother two years ago, according to the Middle East Media Research Institute (MEMRI). His claims could not be independently confirmed.
"My message to Trump, the puppet of the Jews: Allah has promised us victory and promised you defeat," the boy says in the video. "This battle is not going to end in Raqqa or Mosul; it's going to end in your lands. By the will of Allah, we will have victory, so get ready for the fighting has just begun."
The video, which was released Wednesday, shows Yusuf and his purported 7-year-old friend Abdallah at locations throughout the ISIS stronghold of Raqqa, Syria. Yusuf says he "didn't know much about Islam except the name" prior to arriving in ISIS lands. In other scenes, Yusuf is depicted holding a sniper rifle, MEMRI reported.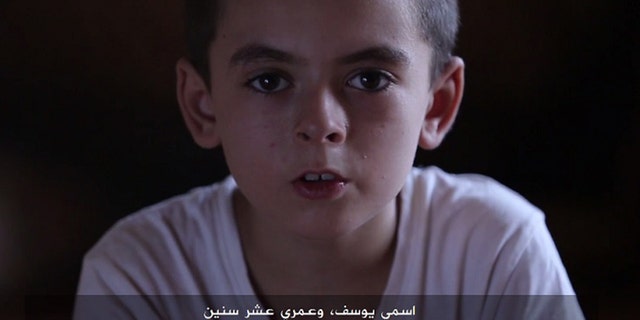 "We are not scared of their planes, because we know they don't fly except by the rule of Allah," the child boasts.
ISIS WARNS OF MORE SPAIN ATTACKS IN NEW SPANISH-LANGUAGE VIDEO
Last month, Iraq declared victory over ISIS in Mosul, the country's second largest city, after a grueling nine-month campaign. An operation to retake the city of Tal Afar operation began Sunday, and is aimed at driving ISIS from one of the last major pockets it controls in Iraq, The Associated Press reported.
As in Mosul, the U.S.-led coalition is providing airstrikes as well as other forms of support to Iraqi troops, and U.S. and other special forces are operating near the front lines.
British Maj. Gen. Rupert Jones, the coalition's deputy commander, said Iraqi forces are off to a "really positive start" and are "closing the noose" around the militants.
"The key is that they've broken into the city," he told Pentagon reporters via video-conference from Baghdad on Wednesday.
DUTCH POLICE ARREST MAN PLANNING 'TERRORIST ATTACK' ON CONCERT BY AMERICAN ROCK BAND
The extremist group has lost most of the territory it seized when it swept across northern and central Iraq in the summer of 2014, and has also suffered major losses in Syria.
But the coalition estimates that the group still has some 2,000 fighters in Tal Afar and 2,500 in Raqqa, where U.S.-backed Syrian forces are fighting the group.
The Associated Press contributed to this report.