Is 50-year war over? Here's what's next in Colombia peace talks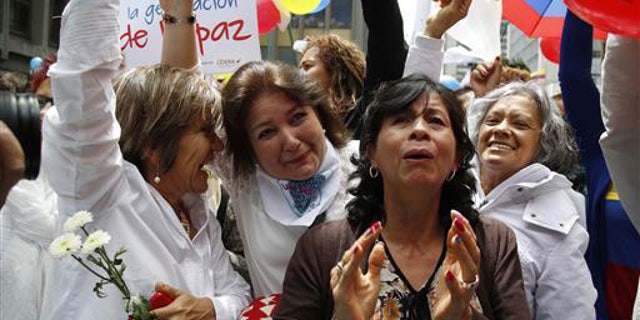 ASSOCIATED PRESS – A cease-fire and disarmament agreement signed Thursday by Colombian President Juan Manuel Santos and his country's largest leftist rebel group has put the South American nation on the threshold of ending its decades-old war. Here are some of the remaining hurdles:
___
LAYING DOWN THEIR ARMS
The deal does not mark the start of a cease-fire. That will begin only with the signing of a final peace deal that authorities hope to achieve as early as next month. A day after an accord is signed, Colombia's army will reposition troops to protect rebel fighters as they move to transition zones where they will turn in their arms and begin the process of moving back into civilian life. The 7,000 fighters in the Revolutionary Armed Forces of Colombia will be required to completely put down their arms within at most six months. The arms will be delivered to U.N. monitors.
___
REBEL DISTRUST
Negotiators still must determine how the deal will be given legal armor so it won't unravel should a more conservative government succeed Santos, who leaves office in 2018. Rebels, wary of past experiences, are also demanding guarantees of safety after they lay down their arms and form a political movement. A similar peace attempt in the 1980s led to thousands of rebels and their sympathizers being killed by paramilitaries and corrupt soldiers.
___
REFERENDUM ON PEACE
Santos has vowed to put any peace deal to a national referendum, though the FARC is pushing for ratification through a constitutional convention. An accord could face difficulties in a referendum due to the deep unpopularity of the rebels and the desire many Colombians still feel for revenge over the conflict that displaced millions and killed hundreds of thousands. Supporters of the peace process also worry that too many voters might simply stay home. To pass, the referendum would have to meet a turnout threshold in addition to an approval threshold.
___
JUSTICE TRIBUNALS
The two sides must settle on a mechanism for selecting judges who will preside over special peace tribunals evaluating the war crimes of guerrillas as well as the military.
___
THE OTHER REBEL GROUP
There is also the risk that Colombia's second rebel movement, the much-smaller but more recalcitrant National Liberation Army, could fill the void left by the FARC. That rebel group agreed only recently to formal negotiations with the government, but those talks have yet to start because of Santos' insistence that it renounce kidnapping. Kidnapping is one of the group's main sources of income, and the rebels have rejected this precondition.
Like us on Facebook