Iraqi lawmakers approved a resolution Sunday calling to expel U.S. troops from the country, following an American drone attack that killed Iranian Gen. Qassem Soleimani.
The resolution asks the Iraqi government to end the agreement under which Washington sent forces to Iraq more than four years ago to help in the fight against the Islamic State terror group.
"The Iraqi government has an obligation to end the presence of all foreign forces on Iraqi soil and prevent it from using Iraqi lands, waters, and airspace or any other reason," Iraqi Parliament Speaker Mohammed al-Halboosi said in an address to lawmakers before the vote.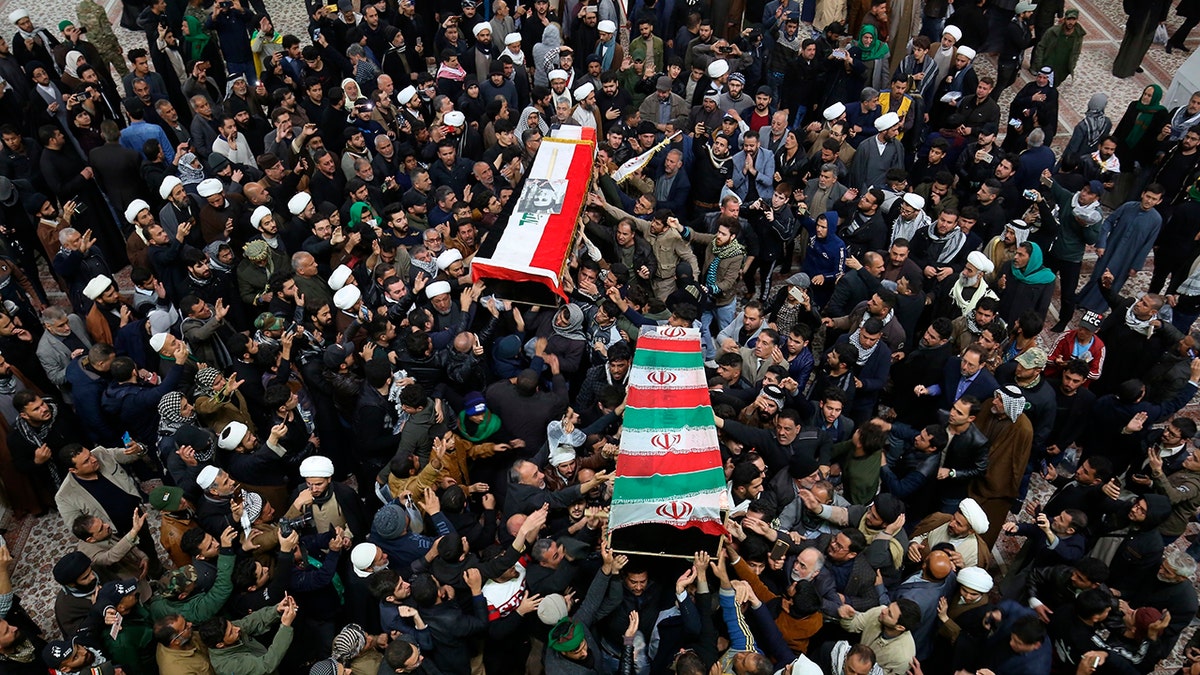 IRANIAN MP THREATENS TO 'ATTACK THE WHITE HOUSE': REPORT
The majority of about 180 legislators present in Parliament voted in favor of the resolution. It was backed by most Shiite members of parliament, who hold a majority of seats. Many Sunni and Kurdish legislators did not show up for the session, apparently because they oppose abolishing the deal.
But the Iraqi Parliament vote doesn't mean that the U.S. military has to leave the country immediately. It's a non-binding vote, which is seen as mostly symbolic. The 5,000 U.S. troops are in Iraq at the invitation of the country's executive branch, the Prime Minister's office -- not Parliament. It is up to the Iraqi Prime Minister whether the troops will be expelled.
The vote came two days after a U.S. drone strike killed Soleimani at the Baghdad airport, ratcheting up tensions in the region and raising fears of war.
"The United States is disappointed by the action taken today in the Iraqi Council of Representatives. While we await further clarification on the legal nature and impact of today's resolution, we strongly urge Iraqi leaders to reconsider the importance of the ongoing economic and security relationship between the two countries and the continued presence of the Global Coalition to Defeat ISIS," State Department spokeswoman Morgan Ortagus said. "We believe it is in the shared interests of the United States and Iraq to continue fighting ISIS together. This administration remains committed to a sovereign, stable, and prosperous Iraq."
TRUMP WARNS IRAN: US HAS TARGETED '52 IRANIAN SITES' AND WILL 'HIT VERY FAST AND VERY HARD' IF NEEDED
There are over 100,000 Iranian-backed militia fighters in Iraq. Their leaders have called for "revenge" for Soleimani's death.
Meanwhile, the U.S.-led coalition in Iraq has officially "paused" the training of Iraqi forces and the support of their operations against ISIS to focus on protecting its troops and bases, according to a coalition statement released Sunday.
CLICK HERE FOR THE FOX NEWS APP
The coalition said the decision is subject to continuous review.
Fox News' Rich Edson, Lucas Tomlinson and The Associated Press contributed to this report.