Iran's president invites US to 'dinner' over nuclear deal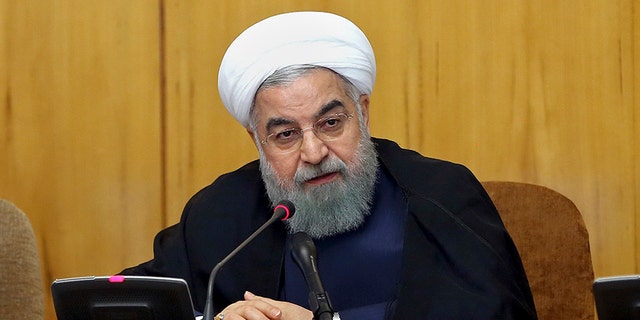 NEWYou can now listen to Fox News articles!
As world leaders prepare for the annual United Nations General Assembly in New York, the president of Iran on Sunday extended a metaphorical "dinner" invitation to the United States.
President Hassan Rouhani used an analogy of a dinner party to describe how countries are benefiting from the 2015 nuclear deal.
Rouhani said the Americans were "sitting in another room" at the party.
"They can adopt a new path and come to the room where the dinner table is," Rouhani said. "That's alright in our opinion. If they change their bad temper they can enjoy the dinner table."
The nuclear deal, reached during the Obama administration, saw Iran limit its enrichment of uranium in exchange for the lifting of economic sanctions.
But President Donald Trump has said he wants to renegotiate it.
U.S. Secretary of State Rex Tillerson recently said Iran was "clearly in defiance" of its obligations under the nuclear deal.
Tillerson pointed to Iran's support of Syrian President Bashar Assad's government, cyber activity and testing of ballistic missiles.
Iran rejects that it has broken the agreement. And it can point to a recent U.N. report showing it was meeting the conditions on its nuclear program set out in the accord.
The July 2015 deal was reached by Iran, the U.S., Britain, France, China, Germany and Russia.