Iran's missile test violated UN sanctions, experts say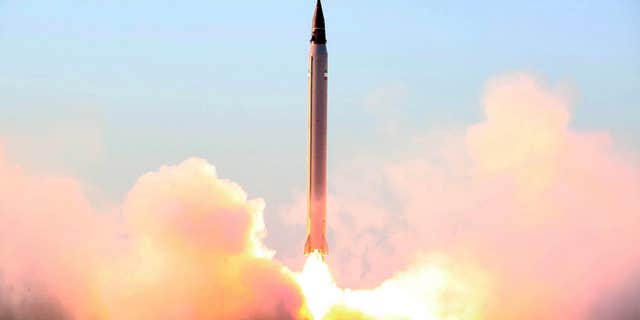 NEWYou can now listen to Fox News articles!
Iran's firing of a medium-range ballistic missile in October violated U.N. sanctions banning the Islamic Republic from launches capable of delivering nuclear weapons, U.N. experts said in a new report.
The report submitted to the U.N. Security Council and seen by The Associated Press on Tuesday said the launch used ballistic missile technology banned under a June 2010 resolution.
The Oct. 10 launch was the first test of a ballistic surface-to-surface missile after Iran and six world powers reached a landmark nuclear deal on July 14. The Security Council endorsed the deal in a resolution on July 20 that also called on Iran not to undertake any activity related to ballistic missiles capable of delivering nuclear weapons.
Iran says none of its missiles are designed to carry nuclear weapons.
The report said the missile had a range of at least 620 miles and up to 1,300 kilometers, and a payload of at least 2,200 pounds and up to 3,086 pounds.
But the panel said a missile with a range of at least 186 miles and a payload of at least 1,102 pounds — far smaller than the one launched on Oct. 10 — is considered by expert guidelines to be capable of delivering weapons of mass destruction.
The United States, France, Britain and Germany asked the Security Council on Oct. 21 to investigate and take "appropriate action" against Iran for the Oct. 10 missile launch.
The Dec. 11 report by experts from the council committee monitoring sanctions against Iran supports the contention of the four countries that the firing violated U.N. sanctions.
Whether the Security Council takes any action remains to be seen.
U.S. Ambassador Samantha Power accused some unnamed council members of refusing to take action against Iran for sanctions violations in recent months, but said the United States will keep pressing for enforcement.
"Instead of an effective, timely response the Security Council has dithered," she told a council meeting considering a report from the Iran sanctions committee.
She pointed to the lack of action on the Oct. 10 missile launch, a visit to Moscow by Quds Force commander Qasem Soleimani, who is subject to a U.N. travel ban, and the interception off the coast of Oman of a banned shipment of arms from Iran in late September.
"This council cannot allow Iran to feel that it can violate our resolutions with impunity," Power said, stressing the importance of sanctions enforcement for "a credible, enforceable nuclear deal."
Under the July nuclear deal, most sanctions on Iran will be lifted when its provisions are implemented in exchange for curbs on its nuclear program. But the experts' report noted that "ballistic missile launches would be covered" under the July 20 resolution.
Meanwhile, the U.N. nuclear agency closed the books Tuesday on its decade-long probe of allegations that Iran worked on atomic arms, and Tehran proclaimed that within weeks, it would finish cutbacks on present nuclear programs that the U.S. fears could be turned into making such weapons.
The probe had to be formally ended as part of the July 14 deal between Iran and six nations that involves the removal of economic sanctions on Tehran in exchange for its commitment to crimp its nuclear program. A resolution was approved by consensus of the 35-nation board of the U.N.'s International Atomic Energy Agency meeting in Vienna.
Despite Iranian denials, the U.S. and its allies continue to believe that Tehran did work on components of a nuclear weapon. But their overriding interest is moving ahead to implement the July 14 deal.
The dispute over the ballistic missile launch indicates lingering questions about Iran's weapons programs.
Iran's Defense Minister Gen. Hossein Dehghan, said at the time of the Oct. 10 launch that the missile, named Emad or pillar in Farsi, was a technological achievement for Iran — able to be controlled until the moment of impact and to hit targets "with high precision."
He said it "will obviously boost the strategic deterrence capability of our armed forces."
The panel said it has not yet investigated a subsequent Iranian ballistic missile launch reported by the media on Nov. 21 and therefore "cannot determine whether it was another Emad test."
Based on video footage of the Oct. 10 launch, the panel said the Emad delivery system was identified as "the Ghadr-1 medium-range single stage liquid-fueled ballistic missile." It said the Ghadr-1 is an advanced version of Iran's Shabab-3 ballistic missile system and the reentry vehicle possesses a guidance system and steerable fins.
The report by the chair of the Iran Sanctions Committee, Ambassador Román Oyarzunttee, cited another investigation by the panel into an allegation that Iran attempted to procure titanium alloy bars, which can withstand extreme temperatures and be used in military and space equipment, in violation of sanctions. It said the panel "could not reach a definitive conclusion on this being 'a willful violation' by Iranian authorities."