Iran Official Says U.S. Should Apologize for Drone 'Invasion'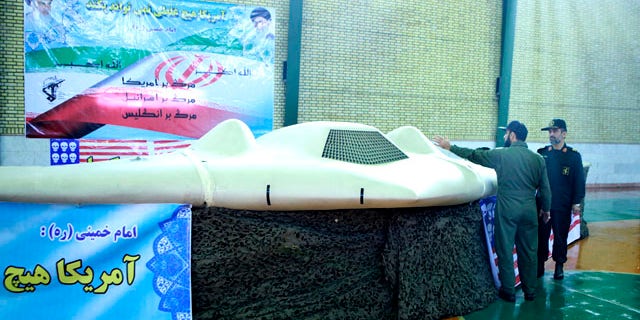 TEHRAN, Iran – Iran's defense minister on Tuesday shrugged off a U.S. request for the return of an American spy drone captured by Iranian armed forces and instead demanded an apology from Washington.
Tehran last week identified the drone as the RQ-170 Sentinel and said it was captured over the country's east. The nearly intact drone was displayed on state TV and flaunted as a victory for Iran in a complicated intelligence and technological battle with the U.S.
"Their plane invaded Iran and Iranian forces reacted powerfully," said Defense Minister Gen. Ahmad Vahidi "Now, instead of offering an apology to the Iranian nation, they impudently ask for the return of the plane."
U.S. officials say the unmanned aircraft malfunctioned and was not brought down by Iran. President Barack Obama said Monday the U.S. wants the top-secret aircraft back and has delivered a formal request for the return of the surveillance drone, though it isn't hopeful that Iran will comply.
Vahidi said the United States should apologize for invading Iranian air space instead of asking for drone back.
"Iran will defend its stance and interests strongly," Vahidi said in remarks carried by the semi-official Mehr news agency.
Hours after Obama announced the request, Iranian President Mahmoud Ahmadinejad underscored his nation's defiance.
"The Americans have perhaps decided to give us this spy plane," Ahmadinejad said in an interview broadcast live Monday night on Venezuelan state television. "We now have control of this plane."
Also Tuesday, Iranian lawmaker Hamid Rasaei told an open session of the Iranian parliament that the drone is staying in Iran, calling it a "war booty."
Later, 186 lawmakers in the 290-seat assembly issued a statement condemning the "invasion" and urging the international community to take a stance toward the "dangerous act" by the U.S.
Meanwhile, state TV said Obama's demand for the drone's return puts the U.S. in the role of "the beggar" over the issue.
There are concerns in the U.S. that others may be able to reverse-engineer the chemical composition of the drone's radar-deflecting paint or the aircraft's sophisticated optics technology that allows operators to positively identify terror suspects from tens of thousands of feet in the air.
There are also worries that adversaries may be able to hack into the drone's database, although it is not clear whether any data could be recovered. Some surveillance technologies allow video to stream through to operators on the ground but do not store much collected data. If they do, it is encrypted.
On Monday, another lawmaker, Parviz Sorouri, claimed Iranian experts were in the final stages of recovering data from the captured drone.