Insurgents kill 35 in attack in northeast Nigeria: military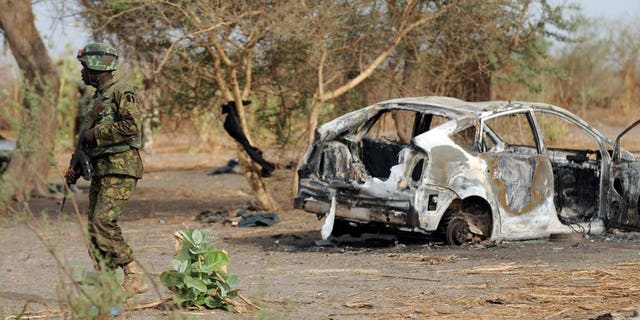 ABUJA (AFP) – Islamist insurgents dressed as soldiers opened fire on worshippers leaving a mosque in Nigeria's far northeast this week, killing at least 35 in the second such attack this month, officials said on Friday.
"Boko Haram people attacked the village on the ground that they have refused to cooperate with them, that they refused their message," defence spokesman Brigadier General Chris Olukolade told AFP of the incident in Dumba, referring to Islamist extremist group Boko Haram.
"The report that was presented has it that 35 people were killed and 14 wounded."
The attack occurred on Monday, but the information did not become public until Friday with phone lines cut in the region and the village located in a remote area.
A separate military source speaking on condition of anonymity said Boko Haram gunmen dressed as soldiers entered the village early Monday and took up positions at a crossroads, where they fired upon worshippers leaving a mosque after morning prayers.
The source said the attack was believed to be in reprisal for a raid by soldiers and vigilantes in the village the previous week that resulted in the arrest of Boko Haram members.
Separately earlier this month, suspected Boko Haram members stormed a mosque in Konduga and shot dead 44 worshippers as well as 12 other people in a nearby village in another area of the northeast.
Those attacks were believed to be revenge over citizen vigilante groups forming to help the military battle Boko Haram, which has been waging an insurgency since 2009.