Indonesian province prepares to tow migrant boat out to sea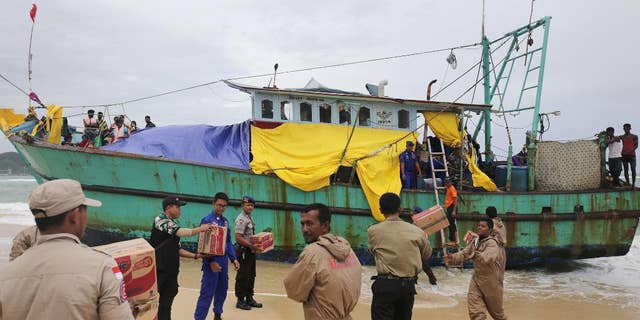 NEWYou can now listen to Fox News articles!
LHOKNGA, Indonesia – Authorities in the Indonesian province of Aceh are preparing to tow a boat with more than 40 Tamil men, women and children out to sea after rescuing it last weekend.
It would be the second time in the past week that officials have attempted to remove the vessel from Indonesian waters after it suffered engine trouble and was discovered stranded on Saturday.
Aceh police chief Maj. Gen. Husein Hamidi said Friday the migrants had been given food, water and fuel and the engine has been repaired.
The province is refusing to let the migrants land despite Indonesian Vice President Jusuf Kalla asking them to provide shelter.
On Thursday, six women tried to leave the boat as it rested in shallow waters but police fired warning shots.