Indonesia to hit train roof riders with nasty goop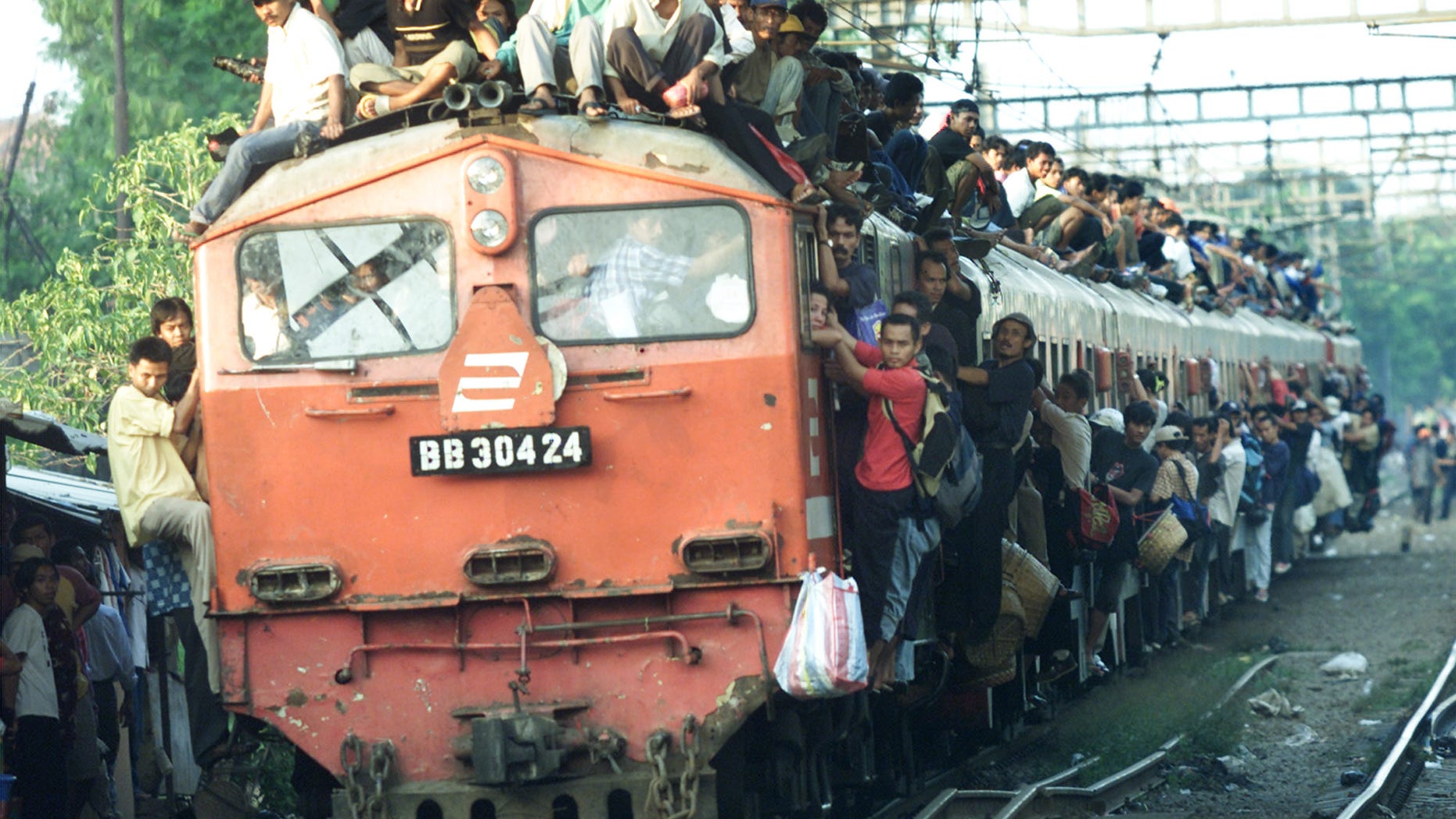 JAKARTA, Indonesia -- Indonesia has another bizarre way to keep commuters off the roofs of trains: swat them with brooms drenched in putrid goop.
"For anyone who is still up there, it'll be like a whip," said Ahmad Sujadi, of the state-run railway, PT Kereta Api Indonesia. The contraptions will be installed at select crossings this week.
Indonesia has tried just about everything to keep passengers from clamoring atop trains that crisscross its main island of Java: spraying them with paint guns, calling in sniffer dogs, and asking for help from Muslim clerics.
The first tactic that worked was deployed last month.
Grapefruit-sized concrete balls were suspended on chains from a frame that looks like a soccer goal. "Rail surfers," realizing they could be knocked in the head or even killed, quickly called it quits.
The concrete balls can only be suspended over non-electric tracks, but no rail-surfing deaths have occurred where they are in place.
Buoyed by that success, railway officials decided to try the brooms as well.
They'll be set up along the line linking the capital, Jakarta, and the West Java town of Bogor.
Sujadi, who didn't disclose the ingredients of the smelly goop, said he was unaffected by criticism for all the strange and strict security measures.
"Some people say its inhumane, but that's fine," he said. "Because letting them ride on the roofs is even more inhumane."
Hundreds have clamored to the roofs in the past because they want to escape overcrowded carriages, can't afford the price of a ticket, or, simply, for fun.
But dozens are killed or injured every year, falling off the train or being electrocuted by the power lines above.
"Train surfing" continues to have its supporters around the world.
It's still popular in places as diverse as Germany and South Africa as people look for a cheap, but dangerous, thrills hanging from a train.
And on the London Underground an advertising campaign was launched against "tube surfing" after people risked their lives doing it, and filming it so they could post it on the internet.
And the death toll continues to rise from doing it, with 40 people believed to have died in Germany alone from the practice, Fox News reports.
Fox News' David Piper contributed to this report. 
The Associated Press contributed to this report.