Indonesia, Philippines boost links, to launch sea patrols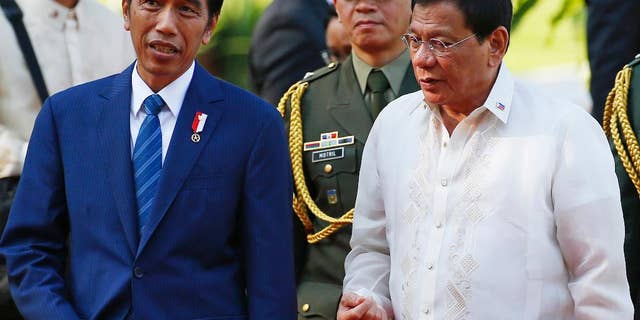 MANILA, Philippines – The leaders of Indonesia and the Philippines have pledged to boost bilateral ties and agreed to launch patrols of their sea borders to prevent kidnappings.
Indonesian President Joko "Jokowi" Widodo said on the first day of a state visit Friday that he and President Rodrigo Duterte also agreed to expand cooperation on countering terrorism.
Jokowi said they agreed to launch, along with Malaysia, maritime patrols of their sea borders. There has been a wave of cross-border kidnappings and boat attacks by Abu Sayyaf extremists and other outlaws in the area.
The two leaders are to inaugurate on Sunday a new direct sea link that will halve shipping time and boost trade between two southern Philippine cities and Indonesia's Bitung city.