Indonesia begins cloud-seeding to fight haze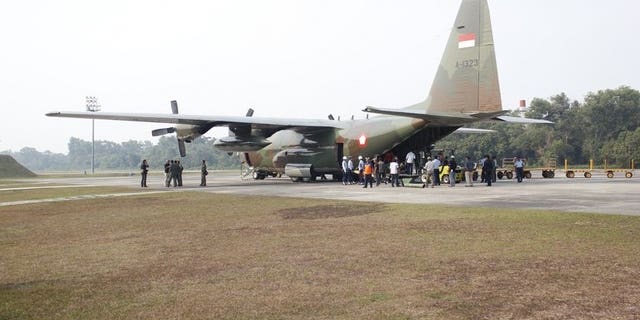 JAKARTA (AFP) – Indonesia has begun seeding clouds in an attempt to create rain to extinguish raging fires that have cloaked neighbouring Singapore and Malaysia in choking smog, an official said.
An aircraft with cloud-seeding equipment late Saturday managed to unleash rain over Bengkalis district on Sumatra island, where some of the biggest fires are burning, disaster management agency official Agus Wibowo told AFP.
"We will continue our cloud-seeding operations today using two aircraft," he said.
"We hope the haze situation will improve, provide some relief to those affected and everything will go back to normal soon," he added.
Wibowo said Riau province, where the fires are burning, was in a "state of emergency", with the Pollution Standards Index (PSI) exceeding the hazardous 400 level in several locations.
Three helicopters were also to drop water to put out fires on hundreds of hectares (acres) of carbon-rich peatland that have engulfed Singapore and Malaysia in smog.
The pollution index dropped to "moderate" in Singapore on Sunday after having hit "hazardous" levels but the smog intensified in parts of southern Malaysia.
According to Malaysia's environment minister G. Palanivel, the air pollutant index (API) hit 750 -- a 16-year high -- Sunday morning in Muar.
"Director general of environment Halimah Hassan has asked the National Security Council to declare an emergency in Muar today," Palanivel said.
The haze crisis has escalated tensions between Singapore and its vast neighbour, with the city-state repeatedly demanding that Jakarta step up its efforts to put out the fires.
However, Indonesian officials have become irate at the demands, and on Thursday the minister coordinating Jakarta's response to the crisis accused Singapore of acting "like a child".
The crisis also brought more negative publicity for big palm oil plantations and pulp groups -- Indonesian, Singaporean and Malaysian -- which deforest vast swathes of Sumatra, although the companies insist they have strict "no burn" policies.
They have been accused of starting many of the fires to clear land through the practice of slash-and-burn, which is illegal but still frequently used because it is the quickest and cheapest way of preparing land for plantations.