Indian lawmakers face arrest over deadly Hindu-Muslim riots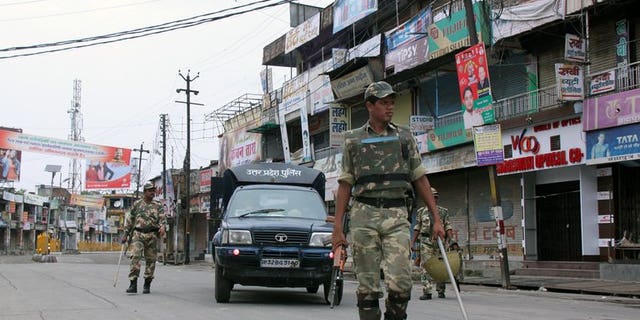 NEW DELHI (AFP) – A court in northern India Wednesday ordered the arrest of dozens of suspects including politicians and community leaders for inciting violence during recent Hindu-Muslim clashes that left 49 people dead, police said.
The state lawmakers, including those from the ruling Congress party and main opposition Bharatiya Janata Party (BJP), are among 69 people wanted by police over the riots in India's most populous state Uttar Pradesh.
"The court in Muzaffarnagar today ordered their arrest after we registered cases against 69 people who include leaders from some political parties," state police spokesman Manoj Jha told AFP by telephone.
The unrest, during which mobs burned houses and a mosque forcing hundreds of people to flee, erupted this month in Muzaffarnagar, 105 kilometres (65 miles) northeast of capital New Delhi, before spreading to other villages.
Thousands of extra paramilitary personnel were rushed to affected areas of the state, which has a history of religion and caste-based violence in its 200-million population.
Uttar Pradesh witnessed riots in 1992 following the razing of a mosque by a Hindu mob. More than 2,000 people -- mostly Muslims -- were killed after the 16th-century structure in Ayodhya was demolished.
The latest violence has triggered speculation that parties are seeking to polarise the politically pivotal state along religious lines ahead of general elections due next year.
A federal opposition MP was among the politicians and community leaders wanted for questioning for allegedly making inflammatory speeches during the unrest, Jha told AFP by telephone from Muzaffarnagar.
He did not say how many politicians and community leaders were being targeted, but the Press Trust of India, quoting unnamed police officials, put the figure at 16. Some have already been arrested and charged with inciting violence, according to local media.
Headlines Today television station said a state cabinet minister, Azam Khan, allegedly told police to go slow on controlling the riots. A police officer was caught on secretly recorded video saying they were under instructions from Khan, from the state's governing Samajwadi Party, the TV station said.
Khan denied the allegation, saying he was prepared to face the "harshest of punishment if proven guilty".
Prime Minister Manmohan Singh on Monday visited victims of the unrest, who have sought shelter in makeshift camps in Uttar Pradesh, and promised tough action for those responsible.
The clashes erupted on September 7 after thousands of Hindu farmers held a meeting to demand justice over the killing of three Hindu men who had protested when a woman was allegedly harassed.