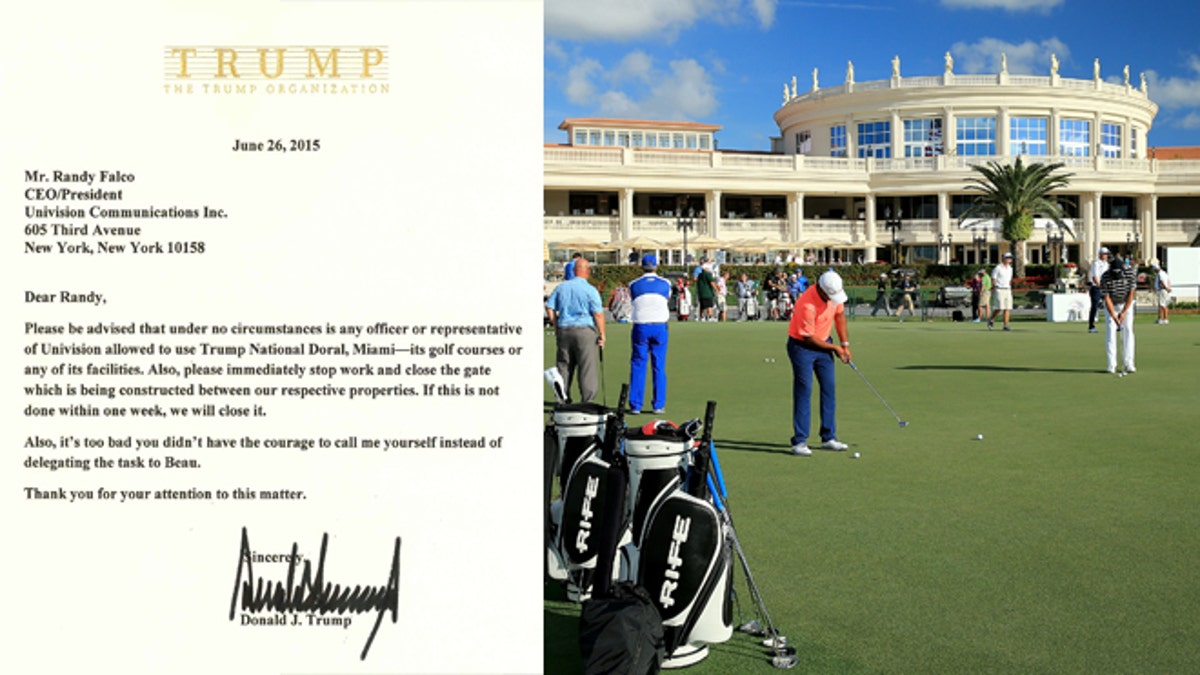 Strip Donald Trump of his crowns, and he'll strip you of your five irons.
In an escalation of his ongoing feud with Spanish-language media giant Univision, the Republican presidential hopeful has banned all of the television networks' officers and representatives from using the golf courses and facilities at Trump National Doral in South Florida.
"Dear Randy," Trump wrote in a letter personally addressed to the CEO/President of Univision Communications Inc., Randy Flaco, on Friday. "Please be advised that under no circumstances is any officer or representative of Univision allowed to use Trump National Doral, Miami – its golf courses or any of its facilities."
The real estate mogul went on to say that he was going to enforce his own border policy between the swank Miami-area golf course and the neighboring Univision offices, located right behind Trump's club. A new shortcut between the facilities had been in the works to allow staff easy access to the course – but not anymore.
"Also, please immediately stop work and close the gate which is being constructed between our respective properties," Trump wrote. "If this is not done within one week, we will close it."
The letter is the latest sign that Trump is waging an all-out, personal war against Univision after the network decided Thursday to sever ties with Trump and his Miss Universe Pageant organization because of offensive comments Trump made about Mexico and Mexicans when he launched his 2016 presidential campaign.
Since then, Trump has said that he plans to sue Unvision for breaching its 5-year contract to air the Miss USA and Miss Universe pageants and for defamation after a Univision executive posted an image on Instagram comparing Trump to the 21-year-old murderer of nine black people at the Emanuel AME Church in Charleston, South Carolina.
The letter ended with a personal jab at Flaco.
"Also, it's too bad you didn't have the courage to call me yourself instead of delegating the task to Beau [Ferrari, executive vice president of operations]," Trump wrote. "Thank for your attention to this matter."
The letter was signed by Trump and included a postscript, which reads:
"Please congratulate your Mexican government officials for having made such outstanding trade deals with the United States. However, inform them that should I become president, those days are over. We are bringing jobs back to the U.S. Also, a meaningful border will be immediately created, not the laughingstock that currently exists."
Trump told Fox News' Megyn Kelly on Thursday night that he believed the decision by Univision to sever ties with him was motivated by pressure from leaders in the Mexican government.
Meantime, Trump is also taking on Univision's top anchor – Jorge Ramos.
Ramos has long been an outspoken advocate for immigrants and the Latino community in the United States. Following Trump's speech last week announcing his candidacy, Ramos tweeted in Spanish, "Here is the cover of the Daily News: Clown Runs for President (It is what many Mexicans are saying)."
Trump has said he believes Univision is clearly biased. Telling Kelly on Thursday, "They are big supporters of Hillary Clinton."
On Friday, Trump posted on Instagram a hand-written letter apparently from Ramos asking to interview Trump, which included Ramos' personal cell phone number.
Fox News Producer Christopher Snyder contributed to this article.