In Norway, zoologists find 30 plastic bags in stranded whale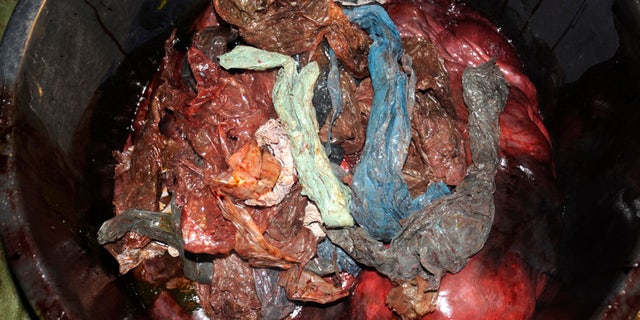 COPENHAGEN, Denmark – Norwegian zoologists have found about 30 plastic bags and other plastic waste in the stomach of a beaked whale that had beached on a southwestern Norway coast.
Terje Lislevand of the Bergen University says the visibly sick, 2-ton goose-beaked whale was euthanized. Its intestine "had no food, only some remnants of a squid's head in addition to a thin fat layer."
AFTER WALK ON THE WILD SIDE, BOBCAT IS DOING FINE AT THE NATIONAL ZOO
Lislevand says the non-biodegradable waste was "probably the reason" why the whale repeatedly beached Saturday in shallow waters off Sotra, an island west of Bergen, some 200 kilometers (125 miles) northwest of Oslo.
He said Friday the U.N. estimates 8 million tons of plastic trash are dumped into oceans each year.
Information on the whale's age or gender was not immediately available.