In holiday telegram to Trump, Putin voices hope for cooperation between two nations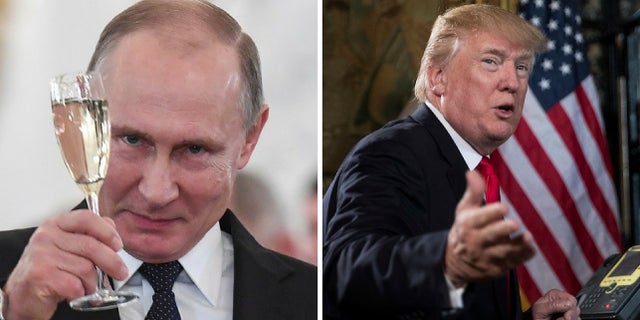 Russian President Vladimir Putin sent President Trump a New Year telegram emphasizing that constructive dialogue between the two nations is essential for global stability.
The Kremlin announced Saturday the Russian leader wrote in his Season Greetings message to his American counterpart that the two nations could develop a "pragmatic cooperation aimed at long-term perspective" on the basis of "equality and mutual respect."
PUTIN: TRUMP-RUSSIA 'COLLUSION' TALK UNDERMINING US SYSTEM
Putin noted that "the development [of] a constructive Russian-U.S. dialogue is particularly important for strengthening strategic stability in the world and finding the optimal answers to global threats and challenges."
Ties between Moscow and Washington sank to a post-Cold War low following Russia's annexation of Crimea in 2014 and the allegations of its meddling in the U.S. presidential election last year.
In an interview with The New York Times on Thursday, Trump denied Russia colluded in the 2016 presidential adding "even if there was, it's not a crime."
The Associated Press contributed to this report.