Hurricane Matthew skirts Leeward Antilles as storm tracks toward Cuba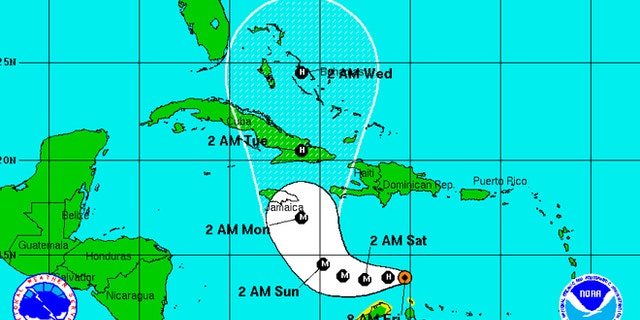 ORANJESTAD, Aruba (AP) – Rain and winds from a strengthening Hurricane Matthew whipped at Aruba, Bonaire and Curacao early Friday as it passed north of the islands on a rare track through a part of the Caribbean that rarely sees such storms.
Authorities on the Dutch Caribbean islands had urged residents to reinforce their homes and stock up on emergency supplies. Some streets flooded on Aruba and Curacao in the early hours of the storm's pass-by, though there were no reports of evacuations.
Matthew's approach prompted long lines at gas stations and supermarkets on the so-called "ABC islands." Authorities in Aruba ordered government offices closed Friday and Curacao's parliamentary elections were postponed until next week.
The hurricane also was headed for a brush with the Colombia-Venezuela border area near the Maracaibo oil region on Friday.
After beginning to turn to the north sometime Saturday, Matthew was forecast to head toward Jamaica, Cuba and Haiti. The hurricane strengthened to a Category 2 storm early Friday and forecasters said it could become a major hurricane later in the day or Friday night, with its front arriving at Jamaica early Monday.
Early Friday, the storm had maximum sustained winds near 100 mph (161 kph). It was centered about 125 miles (201 kilometers) north of Curacao and 565 miles (909 kilometers) east-southeast of Kingston, Jamaica, and was moving west near 14 mph (22 kph).
Hurricane-force winds extended out for 45 miles (75 kilometers) and tropical storm-force winds extended outward up to 185 miles (295 kilometers).
Matthew caused at least one death when it entered the Caribbean on Wednesday, with officials in St. Vincent reporting a 16-year-old boy was crushed by a boulder as he tried to clear a blocked drain.
Like us on Facebook
Follow us on Twitter & Instagram