Hugo Chavez Traveled to Cuba for Emergency Treatment, Rumor Says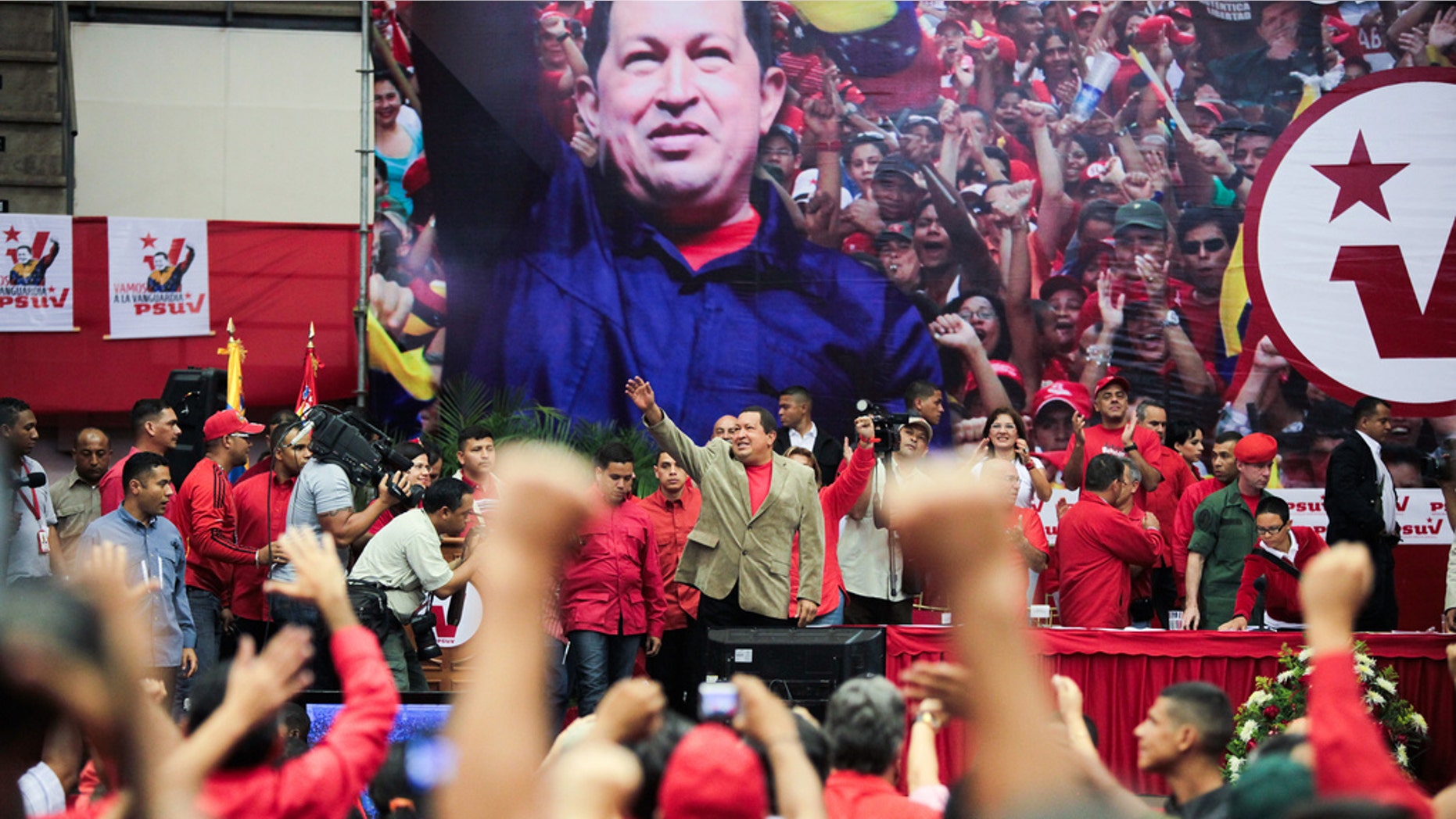 This story was updated after Hugo Chávez confirmed he traveled this weekend to Cuba, where doctors found a lesion that will require surgery. Read the full story here. 
Hugo Chávez reappeared in public on Tuesday, a day after unconfirmed reports began circulating that he had traveled to Cuba for emergency medical treatment over the weekend.
Chávez spoke during a visit to the Veneminsk tractor factory in the Venezuelan state of Barinas. The visit was broadcast live by Telesur, a leftwing television channel partly financed by the Venezuelan government.
The rumors about Chávez's health originated when Nelson Bocaranda, a columnist at Venezuelan daily El Universal, posted an article to his blog and several tweets saying the left-wing president's health had deteriorated and he had traveled to Havana to assess whether he needed surgery. Bocaranda based the reporting on unnamed sources in Miami and Cuba.
The report contradicted official accounts of Chávez's health. The Venezuelan president has undergone four rounds of chemotherapy since his diagnosis in June and he has said since October that he is free of cancer.
Bocaranda added other colorful details. Chávez relies on steroids to maintain his strength and the appearance of good health as the campaign for the Venezuelan presidency against opposition candidate Henrique Capriles heats up, according to Bocaranda, who does not cite sources for the allegation.
Chávez has a team of nine doctors—three from Cuba, one from Venezuela, three from Brazil and two from Spain—who discuss his condition by videochat and could not decide whether to operate, Bocaranda writes. Due to the allegedly poor state of his health and possibility of surgery, Bocaranda says Chávez's mother, children and siblings traveled to Cuba to be with him.
Telemundo News reported on its Twitter account Monday night that Chávez's daughter was in Havana's Hotel Nacional.
Venezuelan Minister of Communication Andrés Izarra denied the Bocaranda report on Monday on his Twitter account, calling the writings a "dirty war."
A report by Venezuelan state media also denied the rumor and used quotes over the word "journalist" when referring to Bocaranda.
The Venezuelan president has kept out of public view over the last four days. He made his last appearance on Feb. 17 in the state of Vargas, where he said he would use the coming days to prepare for his presidential reelection campaign, according to the Associated Press.
Bocaranda's blog post wasn't the only report of Chávez's supposed deteriorating health to appear over the weekend.
Merval Pereira, a columnist with Brazil's O Globo, reported on Friday that Chávez's cancer had metastasized and doctors expected it to spread to his liver. Pereira based the report on unnamed Brazilian doctors who he said had reviewed Chávez's medical records.
Brazilian President Dilma Rousseff offered Chavez Brazilian medical assistance in July, but Chávez preferred to seek treatment in Cuba.
Pereira predicted that Chávez's condition would undermine his reelection campaign.
"Since the election is in October, it's likely that toward the end it will be very difficult for him to keep up a competitive campaign against a unified opposition," Pereira writes.
The Venezuelan opposition elected Miranda state Gov. Henrique Capriles as its candidate in a primary election on Feb. 12.
Rumors regarding Chávez's health have swirled since he fell ill over the summer and had a cancerous tumor removed by Cuban doctors in Havana. The Venezuelan leader treats his disease as a state secret, fueling speculation.
Follow us on twitter.com/foxnewslatino
Like us at facebook.com/foxnewslatino