House of Commons Sergeant-at-Arms hailed as hero who stopped Ottawa attack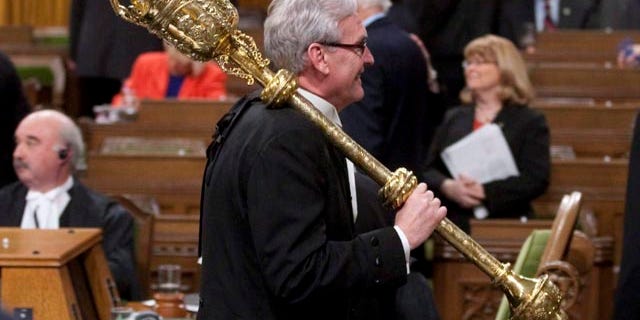 As Sergeant-at-Arms in the Canadian House of Commons, 58-year-old Kevin Vickers serves a largely ceremonial role, carrying a scepter and wearing rich green robes, white gloves and a tall imperial hat.
But amid the chaos of Wednesday's attack on the Parliament building in Ottawa, members of Parliament credited Vickers for playing a vital role in stopping gunman Michael Zehaf-Bibeau before he could have potentially harmed dozens of lawmakers.
Two sources told the Canadian Press that Vickers shot the assailant in the Hall of Honour, just inside the main entrance to the Parliament's Centre Block. Officials have not formally confirmed that Vickers fired at the suspect, but praise for the sergeant-at-arms was already circulating on social media from legislators of all stripes.
"MPs and Hill staff owe their safety, even lives, to Sergeant at Arms Kevin Vickers who shot attacker just outside the MPs' caucus rooms," New Democrat MP Craig Scott tweeted.
"Thank God for Sgt at Arms Kevin Vickers & our Cdn security forces. True heroes." Justice Minister Peter McKay concurred.
"Kevin Vickers is such a fine man. His actions today are no surprise. Proud to call him a friend." Green Party Leader Elizabeth May added.
Vickers' brother, John, who lives in Victoria, British Columbia, told the Toronto Star that he didn't believe his brother ever had to use his service weapon over a 29-year career with the Royal Canadian Mounted Police.
"It doesn't surprise me that when his nation called upon him, he was there," John Vickers told the Star. "We're incredibly proud of him."
A native of New Brunswick, Vickers was appointed sergeant-at-arms in 2006 following a career in the RCMP that included providing protection for foreign dignitaries and members of the Royal Family. John Vickers told CBC News that his brother called their mother at her home in New Brunswick shortly after the attack to confirm that he was safe.
The Associated Press contributed to this report.