Hope fades in the Philippines as frantic search for missing people continues
NEWYou can now listen to Fox News articles!
Rescuers in the Philippines continue to frantically dig through a massive mound of mud to retrieve the bodies of dozens of people believed to be buried by a landslide triggered when powerful Typhoon Mangkhut battered the country.
Hope dwindled as teams dug through mud and debris covering a chapel in the town of Itogon, where more than 40 people sought shelter from the deadly storm. They were using their bare hands, passing blocks of concrete and pieces of wood down a 50-foot line to clear the area, the BBC reported.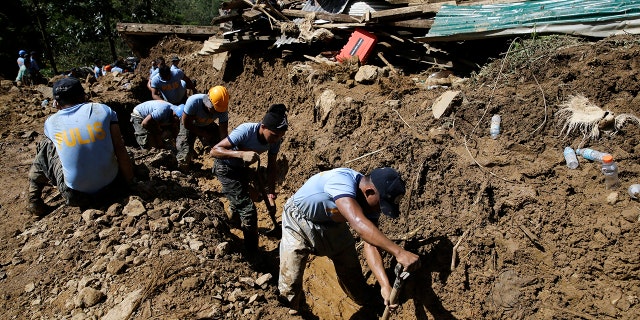 Itogon Mayor Victorio Palangdan in Benguet province said on Monday that it's highly unlikely any of the 40 to 50 people thought buried in the huge landslide will be found alive, saying there's a "99 percent (chance) that they really are all dead."
DOZENS FEARED TRAPPED IN PHILIPPINES AS TYPHOON MANGKHUT PUMMELS SOUTHERN CHINA
He said rescuers have dug out 11 bodies from the slide, as grief-stricken relatives waited nearby.
"We will not stop until we recover all the bodies," Palangdan said.
Typhoon Mangkhut, the Thai name for Southeast Asia's mangosteen fruit, has killed 66 people since it tore through the Philippines over the weekend. It has also killed another four in China, where it weakened to a tropical storm as it churned inland Monday.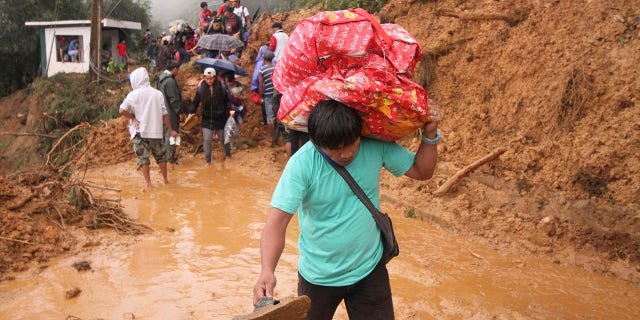 The storm was about 124 miles west of the city of Nanning in Guangxi region and traveling northwest and weakening. There were no additional reports of deaths or damage.
Most of those buried in the Philippines are thought to be poor miners and their families.
Conrad Navidad of the International Organization for Migration told the BBC that the shelter had been a worship area for the mine workers and their families.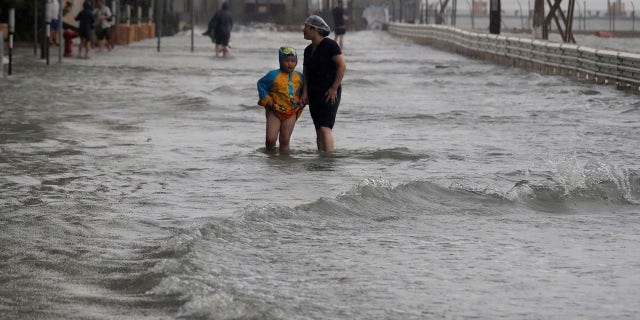 "Before the typhoon hit, their pastor invited them to take refuge in that bunkhouse - and then the disaster happened and they were buried by the landslide," he said. "They are not hoping for survivors anymore - just for the retrieval of the bodies buried."
In Hong Kong, the water levels surged 12 feet in some places and waves swamped roads.
"It's the worst I've seen," Martin Wong, a resident from the eastern Heng Fa Chuen district, told Reuters. "I've not seen the roads flood like this (and) the windows shake like this before."
The storm is expected to weaken to a tropical depression when it reaches the Yunnan province on Tuesday.
The Associated Press contributed to this report.