Hong Kong marks anniversary of ferry disaster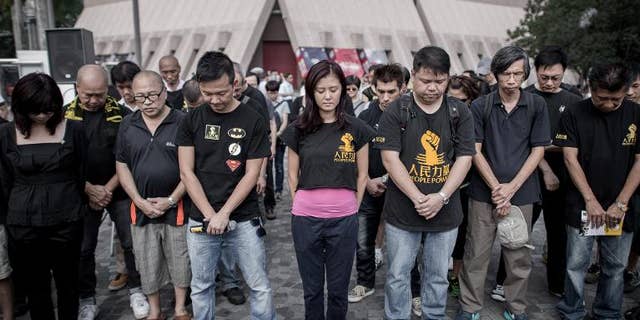 Hong Kong (AFP) – Hong Kong held small but solemn ceremonies Tuesday to mark the first anniversary of a sea collision which claimed 39 lives, the city's worst maritime disaster for over 40 years.
The government has cancelled a harbour fireworks display to celebrate China's national day as a mark of respect to the victims, who had been travelling by boat to watch last year's display when disaster struck.
Their launch Lamma IV, carrying more than 120 people, collided with the high-speed Sea Smooth ferry and partially sank within just two minutes near Lamma Island on October 1,2012.
Lamma IV was carrying employees of the Hong Kong Electric utility and their family members and friends.
An inquiry in April found that a "litany of errors" contributed to the accident.
It described how the bow of the Sea Smooth crashed into the main passenger cabin on the Lamma IV, crushing people as water rushed in.
"Let me express my deepest condolences to the relatives of the victims and the passengers that night, and at the same time, reaffirm the government will carry out follow-up work wholeheartedly," Hong Kong Chief Executive Leung Chun-ying said Monday.
More than a dozen people attended a religious memorial ceremony on a Lamma Island beach at which Buddhist monks in crimson robes chanted and made offerings for the deceased, TV footage showed.
Around a dozen people, some in tears and wearing black, held a minute's silence at the Star Ferry pier in the city's Victoria Harbour.
Hong Kong Electric said it would hold a private memorial service Tuesday.
Vessels of the Hong Kong and Kowloon Ferry company, owner of the Sea Smooth, will sound their foghorns at 8:20 pm, the time of the crash.
The two captains have each been charged with 39 counts of manslaughter and are awaiting trial.
The tragedy shocked the Asian financial hub, one of the world's busiest ports, that prides itself on its good safety record.
The marine department has tightened inspections to ensure boats meet safety requirements including adequate lifejackets and watertight fittings.