Hong Kong ferry in fatal collision passed inspection, firm says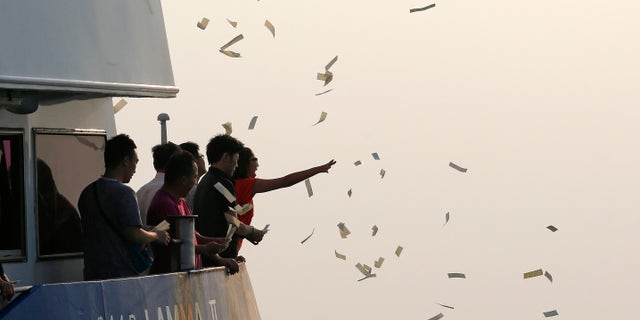 HONG KONG – An official with the ferry company involved in a collision that killed 38 people said Wednesday that the vessel recently passed inspection, but he had no details about how the crash occurred.
Nelson Ng, general manager of Hong Kong and Kowloon (Ferry) Holdings, said the company has not been able to talk to the captain of its ferry, who has been hospitalized since Monday's crash.
Police have arrested seven crew members from both boats, including the captains, on suspicion of operating the vessels unsafely, but they have not alleged any specific wrongdoing the led to the crash.
The 38 people killed were on a boat owned by a utility company that was taking about 120 of its workers and their families to watch fireworks when it collided with the ferry and partially sank.
The ferry was damaged but made it to port. About 100 people on both vessels were taken to hospitals for injuries.
Ng said the ferry, the Sea Smooth, had no problems when it passed a government-required inspection last month. Echoing promises from the power company Tuesday, he said the ferry company "will absolutely chase the reasons behind the incident."
Though he said he lacked information about the crash, Ng bristled at the power company's claim that the ferry continued on its way without helping the other vessel.
"I think, at this stage, to say that we left without a backward glance, there is a little problem with that," Ng said. "Even according to some news reports, we immediately stayed at the scene" after the crash, he said.
Salvage crews raised the half-submerged Lamma IV using three crane barges and later towed it the island's shoreline. Heavy damage was visible, with part of the compartment at the stern torn away and railings bent and twisted.
Police have arrested three crew members from the Lamma IV and four from the Sea Smooth. Police Commissioner Tsang Wai-hung said both crews are suspected of having not "exercised the care required of them by law," but he did not elaborate.
The crash was Hong Kong's deadliest accident in more than 15 years and its worst maritime accident in more than 40. Large-scale accidents are rare in a semiautonomous enclave off mainland China that has one of Asia's most advanced infrastructures and economies with first-rate public services.
Some relatives of the dead went to the scene off Hong Kong island's southwestern coast to toss spirit money in honor of the victims on Tuesday, while others waited at the morgue for news about loved ones.
Yuen Sui-see, the director of operations of Power Assets Holdings, which owns the boat's owner, Hong Kong Electric, said the Lamma IV was carrying 121 passengers and three crew members, well below its capacity of more than 200.
Power Assets Holdings officials said emergency payments of 200,000 Hong Kong dollars ($25,800) would be provided to the family of each person killed.
The companies are part of the business empire of Li Ka-shing, Asia's richest man. He visited a hospital Tuesday and told reporters he felt sorry. "I don't want to say too much. I just know that many people have passed away," he said on Cable TV Hong Kong.