Violence breaks out in Hong Kong as protesters challenge bill allowing criminal suspects to be tried in mainland China
Hong Kong authorities fired rubber bullets, tear gas, and high-pressure water hoses on demonstrators who had gathered outside the city's headquarters on Wednesday to protest a controversial extradition bill that is widely seen as Beijing's encroachment over the semiautonomous territory.
The escalation of force came hours after the government postponed debate on the bill until later this month.
The crowd of mostly young demonstrators dressed in black filled nearby streets, overturned barriers, and tussled with police outside the government headquarters and offices of the Legislative Council.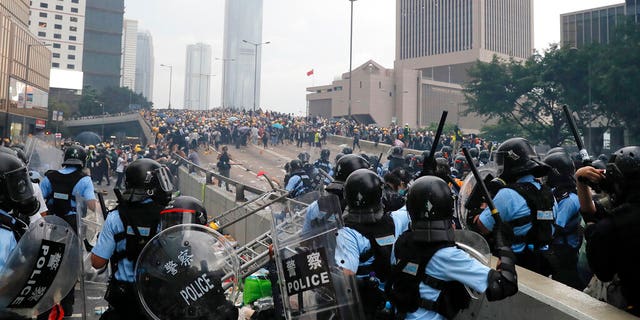 HUNDREDS PROTEST OUTSIDE HONG KONG GOVERNMENT HEADQUARTERS BEFORE DEBATE ON EXTRADITION LAW
Some protesters threw rocks, bottles, metal barricades and umbrellas at police. Police had reportedly warned the protesters that they would use force.
After some protesters appeared to have breached a police barricade around offices, police responded by firing nonlethal projectiles.
Q&A: WHY HUNDREDS OF THOUSANDS PROTESTED IN HONG KONG
Authorities searched some protesters and their bags as they began leaving the scene. Livestreamed reports from local television stations showed remaining protesters putting plastic wrap around their arms, wetting face masks and tightening goggles to protect themselves from tear gas and pepper spray.
The scene was reminiscent of Hong Kong's 2014 pro-democracy "Umbrella Revolution," for which nine leaders were convicted in April on public nuisance and other charges.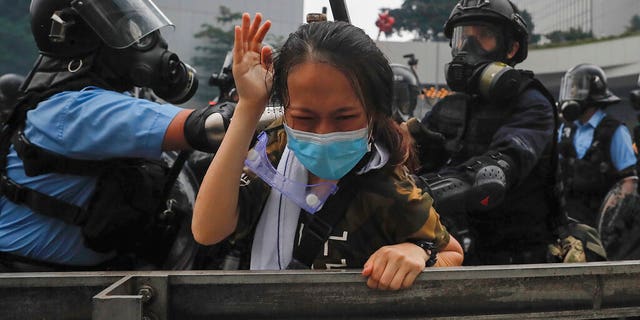 Several protestors cited by The Associated Press said earlier they hoped Wednesday's actions would persuade the government to shelve the proposed amendments to the Fugitive Offenders Ordinance and the Mutual Legal Assistance in Criminal Matters Ordinance.
"We won't leave till they scrap the law," said one protester cited by Reuters.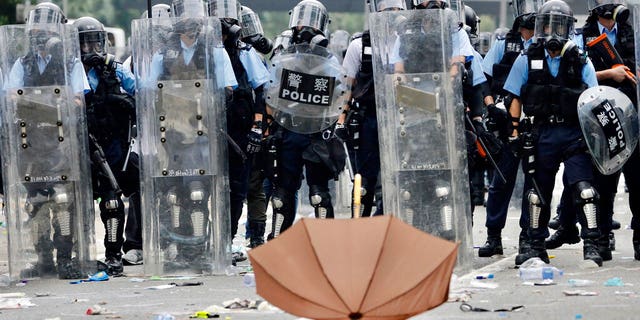 In an interview with news channel TVB on Wednesday, Hong Kong Chief Executive Carrie Lam dodged questions about whether she would withdraw the bill in the face of chaotic and sometimes violent demonstrations against it.
"It's time to let lawmakers with different opinions express their views under the legislative process," Lam said. "On whether to retract or push it through ... our consideration is this. There is no doubt this issue is controversial. Explanation and dialogue are useful but perhaps that has not entirely dispelled worries."
BRET VELICOVICH: DON'T BE FOOLED, CHINA'S OUTREACH TO RUSSIA IS A DESPERATE CRY FOR HELP
Under its "one country, two systems" framework, Hong Kong was supposed to be guaranteed the right to retain its own social, legal and political systems for 50 years following its handover from British rule in 1997. However, many regard China's ruling Communist Party as having reneged on that agreement by forcing through unpopular legal changes.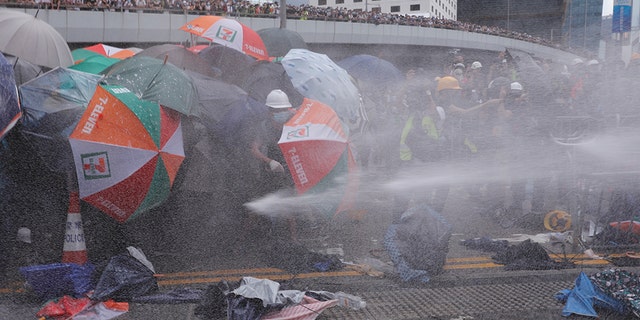 Hong Kong's 70-seat Legislative Council is controlled by a pro-Beijing majority.
Speaking about her commitment to her job, Lam became tearful and her voice cracked as she said: "They said I'm selling out Hong Kong. How could I do that? I grew up here with everyone else in the city."
Lam added that she has never "felt guilty" over the issue and insisted she believed she was doing the right thing. She said she felt "worried and sad" about young protesters -- many of them teenagers -- on the streets, but said that as a parent to two sons, she believed it would be wrong to cave into young people's "willful behavior."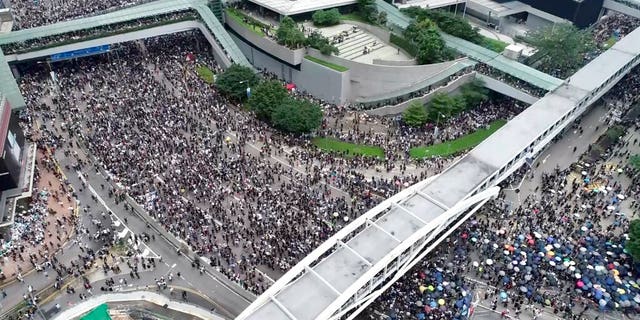 Despite overwhelming opposition, Lam has defended the legislation as necessary to close legal loopholes with other countries and territories, Reuters reported. A vote was scheduled on June 20.
"Carrie Lam has underestimated us," said another protester cited by Reuters. "We won't let her get away with this."
The Associated Press contributed to this report.