Honduran president says drug cartels were plotting to kill him and U.S. ambassador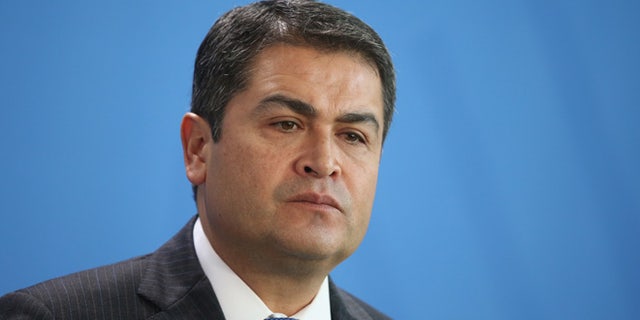 NEWYou can now listen to Fox News articles!
Honduras' president said on Thursday that authorities were investigating reports that a drug cartel based in the country was planning to assassinate him and the U.S. ambassador to the Central American nation.
Speaking to a local radio station, Juan Orlando Hernandez said that external sources had revealed a plot by a drug cartel based in eastern Honduras to kill him and Ambassador James Nealon.
"They reported there was evidence of plans for an attack against Ambassador Nealon and against (myself) by an Atlantic criminal group," Hernandez told a radio station, according to Reuters. "So we told everyone that they had to do their job, investigate and bring proceedings in the case."
Hernandez, who came to power in 2014, has made reducing Honduras' endemic levels of violent crime and reeling in the power of drug traffickers a major issue of his presidency. While his administration has been successful in reducing the country's soaring murder rate and instituted a strict policy against drug cartels, human rights groups have raised concerns about his tactics.
Drug cartels have been using Honduras as a transit point for moving cocaine into the United States.
It was not immediately clear what role the cartel played in the alleged assassination plan and Hernandez did not give any more information about the investigation, citing the sensitivity of the case.
Hernandez's revelation came only a day after Honduran army captain Santos Orellana claimed that U.S. Drug Enforcement Administration (DEA) agents had pressured him o testify against the president's brother over a plot to kill Nealon. Orellana is currently under investigation by the U.S. for allegations of corruption and ties to drug traffickers.
The Honduran president's brother, Juan Antonio Hernandez, wrote in a letter to Congress on Thursday that he was willing to cooperate with any investigation and denied having any links to illegal activities.
Hernandez has faced numerous challenges to his rule since taking office in 2014, including a march by thousands of citizens calling for his resignation.
Opposition political groups want an independent investigation into a corruption scandal involving the Honduran Institute of Social Security, where companies formed by institute officials reportedly overcharged for services.
Hernandez admitted that his 2013 presidential campaign unknowingly accepted donations that may have been linked to the groups embroiled in the scandal.