Homeland Security investigators dismantle human smuggling ring in South Texas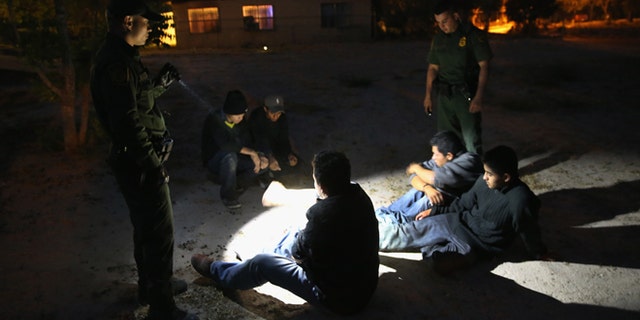 NEWYou can now listen to Fox News articles!
SAN ANTONIO (AP) – U.S. Homeland Security investigators dismantled a South Texas ring that illegally smuggled thousands of immigrants across the border from Mexico and on to other parts of the state -- often tucked in small, dangerous truck crawl spaces.
James Spero, special agent in charge of the San Antonio Division, said Thursday that nearly two dozen people were charged last week with human smuggling. Among them was 49-year-old Jaime Jaramillo-Hernandez, of San Antonio, whom authorities accused of leading the ring that shipped about 150 Central American and Mexican immigrants weekly. The immigrants paid about $5,000 each for the trip.
"These arrests give a significant blow to a multi-million dollar smuggling organization that has proven to have little regard for human life," Spero said.
The two-year investigation led to the arrests of more than 400 people, some 60 indictments and $187,000 seized, according to authorities. The ring extended from western border cities to San Antonio and Dallas.
Harry Jimenez, a deputy special agent with Homeland Security Investigations, said that investigators were examining possible links with Mexican cartels but that none have surfaced yet.
"There is a good possibility that as we move forward it may be more clear who exactly was behind this on the Mexican side," he said.
Among the ways that the immigrants were transported was inside a stifling U-Haul truck whose driver tried to avoid authorities by veering onto a set of railroad tracks.
Many immigrants also stuffed themselves inside the tractor-trailer air flow vents, commonly known as wind jammers. Immigrants have slipped and fallen to their deaths when they are hit by the truck or other oncoming traffic, Jimenez said, explaining that "they have to hang there for dear life."
Those charged with human smuggling face up to 10 years in prison, if convicted, said Richard Durbin, the U.S. Attorney for the Western District of Texas. He said the amount of money charged by the smugglers and the increased risk that the immigrants were willing to take was evidence that it has become more difficult to cross the border illegally.
"It's not a porous border that people are just going across," he said. "If entry were simple, it wouldn't be necessary to expose people to the dangers."