Historic Brexit divorce negotiations begin in Brussels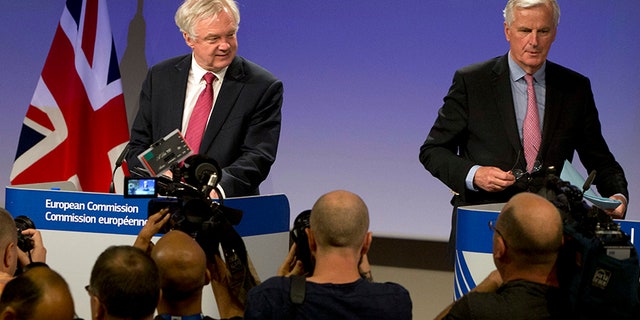 NEWYou can now listen to Fox News articles!
UK and EU negotiators have begun historic talks on Britain leaving the bloc - with both sides seeking to strike a positive tone.
Speaking in Brussels, Brexit Minister David Davis said London wanted a "new, deep and special partnership" in the interest of Britons and all Europeans.
"There is more that unites us than divides us," he said, adding that Britain was looking for a "positive and constructive tone" in the talks.
"So while there will undoubtedly be challenging times ahead of us in the negotiations we will do all that we can to ensure we deliver a deal that works in the best interests of all of our citizens," he added.
The EU's chief negotiator, Michel Barnier, said he hoped they could agree a format and timetable on Monday.
The former French minister said his priority was to clear up the uncertainties that the Brexit vote had created.