Hispanic lawmaker in N.C. scales back tuition bill after being branded a racist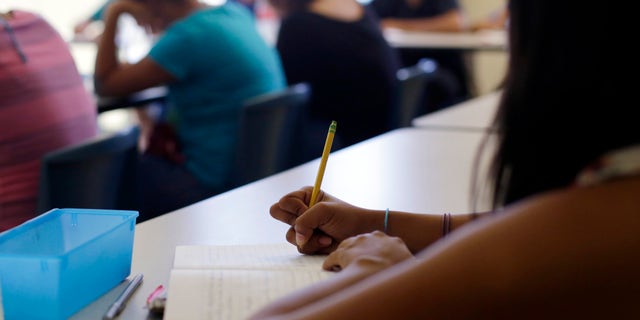 A Hispanic lawmaker in North Carolina faced fierce backlash and mistrust that branded him a racist after proposing a bill that would slash tuition to just $500 a semester at five public universities that serve mostly blacks, American Indians and the poor.
North Carolina's NAACP chapter called the proposed tuition cut a back-door attempt to drive black schools into bankruptcy.
On Wednesday, Republican Sen. Tom Apodaca said he is scaling back the bill and plans to drop three historically black colleges from it.
The move follows weeks of administrators, faculty members, students and others warning that the loss in tuition revenue could cripple the five institutions. Many said they didn't trust assurances from the conservative, GOP-controlled legislature that it would make up for the lost funding with up to $70 million a year.
Others warned that a rock-bottom tuition of $500 would look bad and cheapen a degree from the schools involved.
Apodaca, one of the powerful members of the Senate, said his goal was to make college more affordable and boost enrollment. He said he was surprised by the reaction to the bill.
"I've also been disappointed in being called a racist and bigot," he said.
He said he is dropping Winston-Salem State, Elizabeth City State and Fayetteville State from the bill. It will now apply only to the University of North Carolina at Pembroke, a historically Native American university, and Western Carolina University, which serves the poverty-stricken Appalachian region.
Undergraduate tuition would be reduced in the fall of 2018 to $500 a semester for in-state students and $2,500 for out-of-state students. Tuition at the five schools now runs between $1,400 and $1,900 a semester for residents and between $6,500 and $7,500 for non-residents.
Though the legislation would have put a college education within reach of more people, it ran into unexpected resistance.
"It hadn't been pleasant, and for the life of me I can't understand it," said Apodaca, who attended Western Carolina. "I would do nothing to cheapen the degree. And we're just trying to lower tuition costs and help some institutions. But anyway, if they feel that way, that's fine."
Supporters of North Carolina's historically black colleges have long complained that the institutions are shortchanged by the state. The Rev. William Barber, president of the NAACP's North Carolina chapter, went further in recent days, charging that the proposed tuition cut is "trickery" designed to "drain and bankrupt" the schools.
Some worried also that cheap tuition would send the wrong message.
"After all, if someone offers to sell you a $500 car, wouldn't you question its value?" James Anderson, chancellor of Fayetteville State, said in a letter to North Carolina newspapers in March.
The five institutions, with a combined enrollment of nearly 30,000, are part of the 17-campus, 225,000-student UNC system, whose flagship is the University of North Carolina at Chapel Hill. The five schools are often the first step up the socio-economic ladder for many students, some of whom are the first in their families to go to college.
UNC Pembroke student Kassie Conway, a biology major who wants to go to medical school, said lower tuition could change her life, but she is not sure it's worth the risk. To pay for college, the 22-year-old senior works nights in a town about an hour's drive away, answering phones for the North Carolina Golf and Travel Association until 2:30 a.m. She has taken several semesters off to save for more classes.
"I definitely believe that if knocking down tuition is going to decrease the quality of education at UNCP, there's absolutely no reason to lower tuition," Conway said. "The faculty that we have are great. They push you. They do whatever they can to help you. They are such advocates, it would be a shame to lose them."
But other students welcomed the proposed cut.
Rob Tanner, a 21-year-old black student majoring in history at UNC Pembroke, said: "I don't mean to sound biased, but anything to help more African American young people get into college and educate themselves is always a great thing to do."
Based on reporting by the Associated Press.
Like us on Facebook
Follow us on Twitter & Instagram