Hillary Clinton visits site of Orlando nightclub massacre to honor victims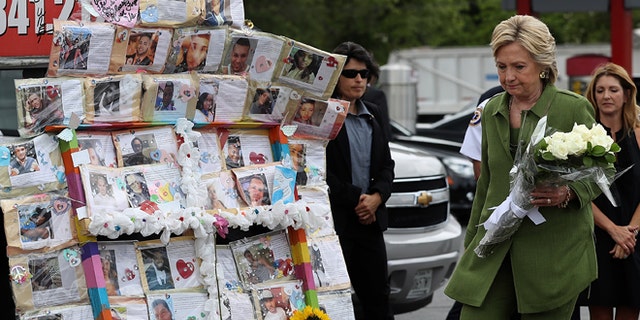 (Associated Press) – Campaigning in Florida on Friday Hillary Clinton made an impromptu stop at the Pulse nightclub in Orlando, the place where 49 people were killed and 53 injured by a shooter who pledged fidelity to Islamic militants. Most of the victims were LGBT and Latino.
The Democratic presidential nominee was joined by Sen. Bill Nelson (D-Florida), first responders and community residents at the makeshift memorial outside the club.
She placed a bouquet of white flowers at the site next to a candle and a framed photo of a cross.
Clinton made the stop after a somber meeting with community leaders and family members who were affected by the shooting.
Clinton came out in support of same-sex marriage in 2013, after almost a decade of opposing it. Since becoming a presidential candidate, her views have changed as has public opinion toward support of the LGBT community.
During the visit, Clinton said that Americans must confront "hate and bigotry" particularly against LGBT people and minorities. She pointed out that lesbian, gay, bisexual and transgender people are more likely to be victims of a hate crime than heterosexuals are.
"It is still dangerous to be LGBT in America," Clinton said.
The former Secretary of State is meeting with religious, government and social services leaders in the city and is promising to "promote the kind of changes" that would prevent future attacks – including banning assault weapons and dismantling online terrorist networks that radicalize Americans.
Her visit came a day her rival, Donald Trump, promised to do all he can to protect LGBT Americans while accepting the Republican presidential nomination in Cleveland.
Like us on Facebook
Follow us on Twitter & Instagram