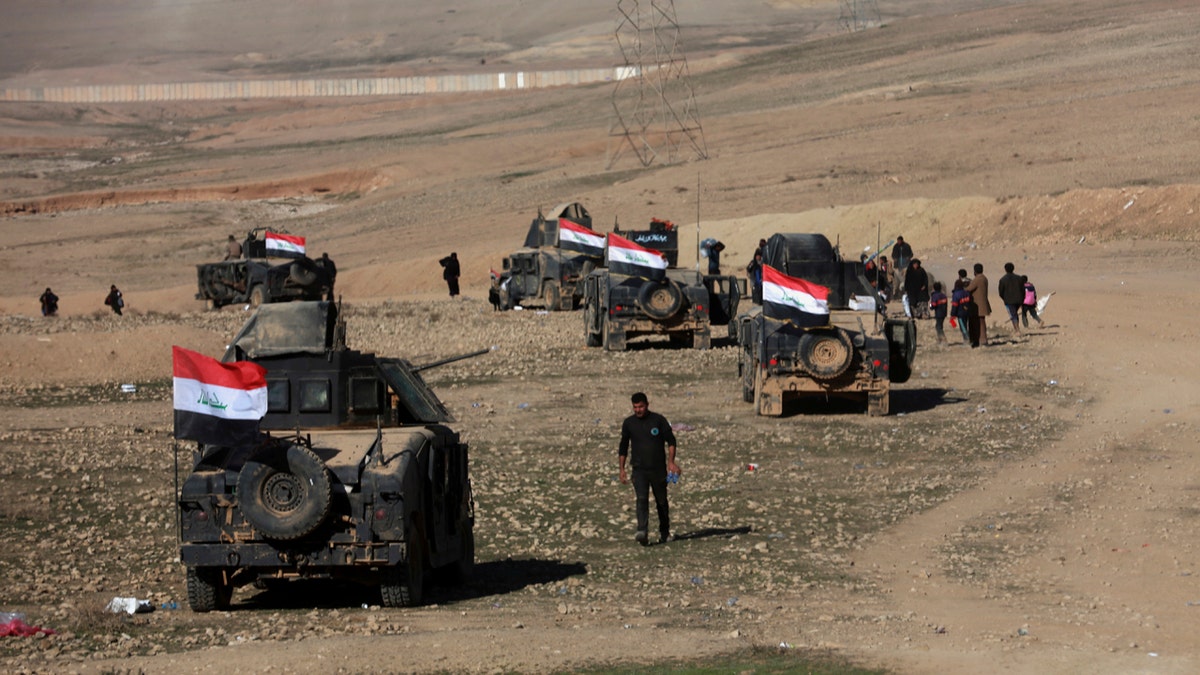 The Islamic State may be on the brink of defeat in Mosul, but the radical Muslim terror group isn't giving in without a bloody – and blistering – pushback.
More than two dozen Iraqis stationed with U.S. and Australian military advisers in the Mosul vicinity required treatment after being hit Sunday by a chlorine gas attack. A day earlier, seven Iraqi soldiers were documented to have been injured in a similar attack in the Abar neighborhood of western Mosul.
However, one Iraqi soldier positioned around the Mosul attack site dismissed the latest incidents as "not a big deal" and insisted that there has been no significant fallout. Iraqi Major Gen. Abdul Ghany Alasady, too, denied accounts of a chemical assault.
"There was no use of chemicals in recent days," he told reporters, adding that the Daesh, as ISIS is commonly referred to in the Middle East, is just publicizing the use of toxic materials to rally its own troops after an onslaught of deaths and defeats.
Furthermore, a U.S. military spokesperson for Operation Inherent Resolve, the official name of the ISIS abolition mission in Iraq, told Fox News the "coalition is aware of reports of low-grade chemical attacks on our partnered forces." He said the "attacks were largely ineffective and further displays the desperation of ISIS as they seek to hold an untenable position in Mosul."
Accounts of chemical attacks early last month were also extinguished by the top brass. Iraq's U.N. ambassador, Mohamed Ali Alhakim, said there was "no evidence" of chemical warfare. Iraqi Prime Minister Haider al-Abadi flatly denied the chemical allegations as "wrong," stating that "what happened actually (was) just a mixture of smoke and gas," which has "a limited impact."
Others, however, remain skeptical. One Kurdish official, not authorized to speak to the media, expressed concern that facts and figures are being obscured. The official said "multiple gas attacks did take place over the past week and that the military casualties were not known," but that coverage on the issue was being squashed.
And Tony Schiena, founder and CEO of Multi Operational Security Agency Intelligence Company (MOSAIC), which has long operated in the region, affirmed that chemicals were deployed this past week and that the jihadist faction "continues to use chemical weapons, and since the recent use of sarin in Syria, it has spurred ISIS to increase their use of it."
"Chlorine is easily obtainable, created and stored. They have mustard gas stockpiled as well as radioactive material that can cause cell phones to go haywire when brought close to it," Schiena told Fox News. "It would glow on the ground as well as on the bodies of the affected soldiers."
So is there anything to the discrepancies?
A source connected to Iraqi intelligence told Fox News that what is of paramount importance right now is simply "maintaining the psychological state of the soldiers," thus implying that by illuminating such attacks in the press, it could be perceived as making ISIS appear more powerful than it is and playing into the group's propaganda.
Nonetheless, there is no denying that chemical weapons have become something of a staple in ISIS' devastating arsenal. According to IHS Conflict Monitor, a London-based intelligence and analysis service, ISIS used chemical weapons – sulfur and chlorine – at least 52 times in Syria and Iraq since the ISIS battle began. A number of U.S.-led airstrikes have also targeted supposed chemical weapons depots and manufacturing facilities.
AFTER US STRIKES, TRUMP'S SYRIA PLAN STARTS COMING INTO VIEW
IRAQI PRIME MINISTER AL ABADI SAYS ISIS MILITARY DEFEATED 'WITHIN WEEKS'
ISIS CHILD SOLDIERS ARE LATEST CASUALTIES OF BRUTAL TERRORIST ARMY
One female ISIS operative – captured and imprisoned by Kurdish authorities for treating wounded ISIS fighters at a hospital in her home city of Qayarra – told Fox News that a brick factory and smaller dwellings scattered near that hospital had become known hubs for chemical weapons manufacturing.
Luqman Ibrahim, battalion leader of the Yazidi forces in the Sinjar Mountain region, also explained that several types of chloride bombs had been used. He said those bombs wounded more than 50 of his men over the course of the long battle. The bombs were of various types: ISIS had used sophisticated Russian-made bombs, ones developed by former Iraqi Ba'ath Party Army officials and then two types of homemade chloride bombs. One type is a rocket that disseminates the synthetic agent; another is a chloride-filled rocket with a propane gas can attached.
For Karwan Saeed, a 37-year-old Kurdish Peshmerga soldier who was one of the very first victims of an ISIS chemical attack, those agents will forever haunt. Stationed just outside Mosul in July 2015, Saeed detailed the moments that had dismantled his life.
"I went to inspect a Katyusha rocket that had fallen a little way in front of us," he told Fox News. "But I did not know of the chemical element attached."
Now, Saeed's eyes perpetually swell and his skin constantly erupts in rashes that no bar of oatmeal soap – the only treatment he has been able to obtain -- can appease.
"I can't sleep. I am allergic to everything," he added, contorting with agitation as if he was a prisoner inside his own gnawing flesh. "And there is nothing to make this go away."