Handcuffed, blindfolded Palestinian teenager says he was shot twice by Israeli soldier while running away
A Palestinian teenager accused of throwing rocks at Israeli soldiers was reportedly shot last week as he tried to make a run for it while handcuffed and blindfolded.
A now-viral photo from a local photographer shows soldiers appearing to pursue the fleeing teen, who had his eyes covered and hands tied behind his back.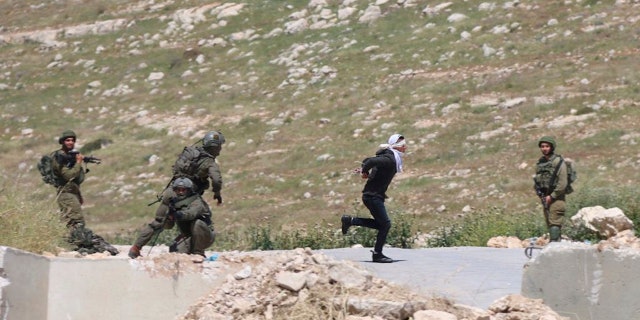 Osama Hajahejh, 16, told reporters he was tackled by Israeli soldiers Thursday after leaving a funeral for a school teacher in his village of Tekoa. He said the soldier jumped out of an olive grove and forced him to the ground. He said his hands were cuffed and his eyes covered with a cloth blindfold.
COEXISTENCE IN A 'DANGER' ZONE: AN INSIDE LOOK AT ISRAELI SETTLEMENTS IN THE WEST BANK
The teenager told the Associated Press from a hospital bed in the West Bank town of Beit Jala that he could hear other Palestinian youth shouting at the soldiers, who were yelling back in Arabic and Hebrew.
"I got confused," and stood up, he said. "Immediately, I was shot in my right leg. Then I tried to run, and I was shot in my left leg and fell to the ground."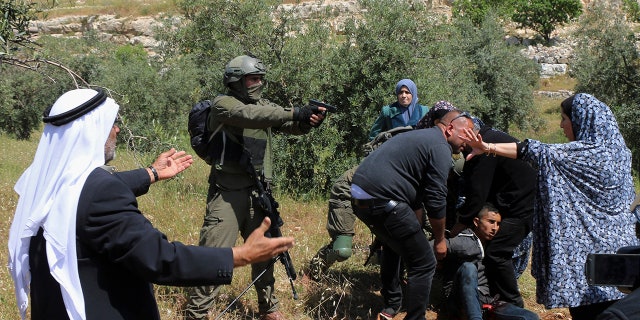 Additional photos show a masked soldier screaming and pointing a pistol at a group of Palestinians as Hajahejh lies on the floor. One soldier took off the teen's belt and used it as a tourniquet to stop the bleeding, witnesses said.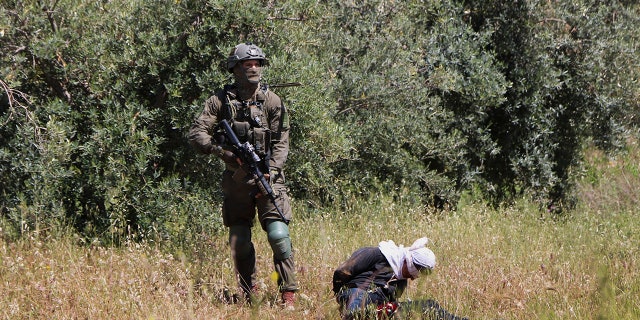 In a statement, the military accused the teen of participating in "massive stone throwing" attack on Israeli forces. It did not say anything about him being blindfolded or handcuffed.
"The detainee was held at a nearby spot and began running away from the force. The soldiers chased him, during which they fired toward his lower abdomen," the statement said.
ARAB LEAGUE PLEDGES $100M PER MONTH TO PALESTINIAN AUTHORITY
The military said the teen was offered first aid after the shooting. It said the incident was under investigation.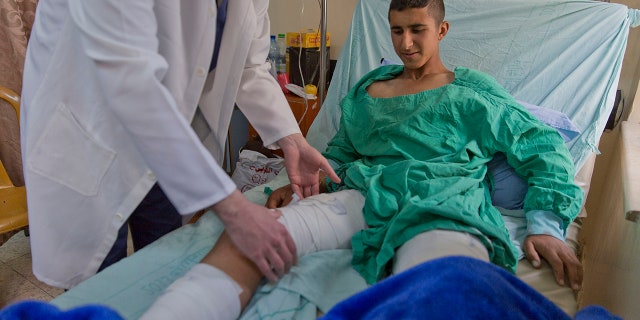 Hajahjeh's father, Ali, said he was thankful a soldier gave his son medical care. But he said his son never should have been shot to begin with.
"Only a sick person would shoot a blindfolded boy," he said.
CLICK HERE TO GET THE FOX NEWS APP
Doctors said the teen is in stable condition.
The Associated Press contributed to this report.