Hamas' military chief believed to have been killed in airstrike, sources say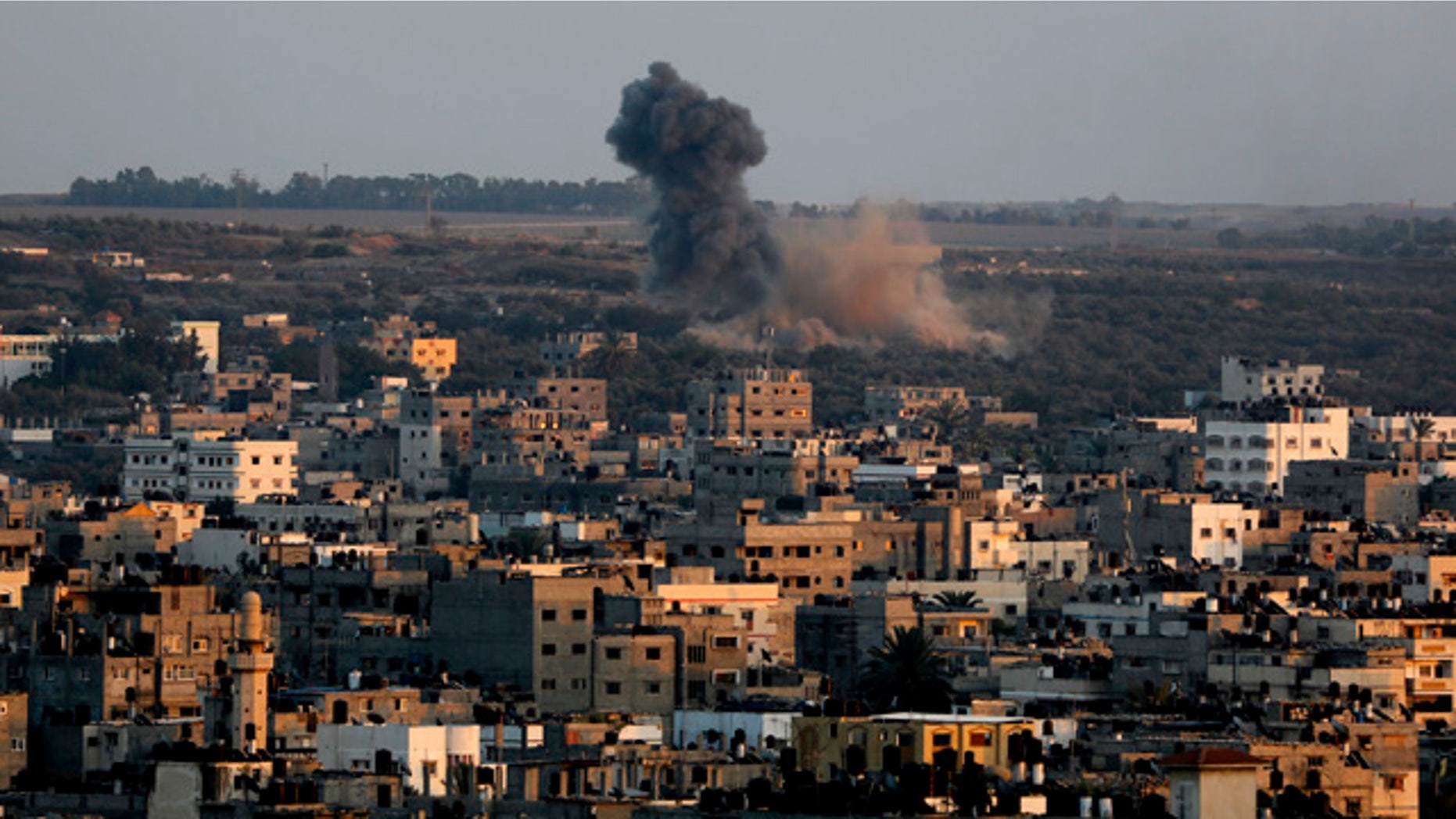 Hamas' military chief is believed to have been killed in an airstrike in Gaza early Wednesday, Israeli intelligence sources tell Fox News.
Israeli officials said Wednesday the country's military targeted Mohammed Deif after militants fired rockets at Israeli cities just hours before a temporary cease-fire was set to expire.
The Times of Israel reported that a house believed to be the home of Deif was hit early Wednesday. Dief has escaped numerous Israeli assassination attempts in the past. It was not immediately clear whether he was there at the time of the attack.
In Cairo, Moussa Abu Marzouk, a senior Hamas leader, said that among those killed in the airstrike on the three-story house in Gaza City were Deif's wife and a child. Three others in the building were also killed.
Abu Obeida, the spokesman for Hamas' military wing, said Israel was "unable to get to our commander Deif," saying he will "lead the army that will enter to liberate the holy al-Aqsa mosque" in Jerusalem.
In a televised statement, Abu Obeida also warned international airlines against flying into Israel starting Thursday, suggesting hostilities may continue. Earlier in the conflict, airlines suspended their flights into Israel after a rocket landed in a town near Israel's main international airport.
Israeli government officials expressed support for the operation throughout the day Wednesday.
Justice Minister Tzipi Livni told the news website Ynet that "[Dief's] his liquidation is not just legitimate but desirable, in my opinion."
Science and Technology Minister Yaakov Perry, a former head of the Israeli security agency Shin Bet, told Israel's Army Radio that "if there had been intelligence that Mohammad Deif was not in that house, we would not have blown it up."
"With the assumption that Israel was behind this, it shows its intelligence capabilities...and it is an important indication that no head of the Hamas military wing is immune to a targeted killing," he added.
He said a security cabinet meeting would be held Wednesday afternoon to discuss developments.
The fighting resumed one day after Egyptian efforts to bring the month-long conflict to an end collapsed, prompting Israel to withdraw its delegation from Cairo.
The Israeli military said it carried out nearly 100 airstrikes on Gaza targets, and that Palestinians had fired more than 140 rockets at Israel since the temporary truce collapsed. About 2,000 reserve soldiers who had been sent home two weeks ago were called up for duty again Wednesday, the military said.
Since violence flared up again Tuesday, at least 20 Palestinians have been killed and more than 120 wounded, Gaza Health Ministry official Ashraf al-Kidra said.
The breakdown in talks and the resumption of violence left the Egyptian mediation efforts in tatters and raised the likelihood of a new escalation. Palestinian negotiators said the talks were finished, though Egyptian security officials told the Associated Press that Cairo was still pressing the two sides to agree on a cease-fire. They spoke on condition of anonymity because they were not authorized to speak to the press.
Air raid sirens wailed in southern Israeli cities Wednesday morning warning of incoming rockets from Gaza. There were no reports of injuries, though a piece of a rocket that was intercepted near Tel Aviv fell on a busy road Tuesday night. Israel's civil defense authority meanwhile ordered the reopening of public bomb shelters within 50 miles of Gaza.
Palestinian and U.N. officials claim that more than 2,000 Gaza residents, most of them civilians, have been killed since the war began on July 8. Israel says the number of militants killed was much higher, and it blames Hamas for causing civilian casualties by staging attacks from residential areas. Sixty-four Israeli soldiers, two Israeli civilians and a guest worker from Thailand have also been killed.
Hamas is seeking an end to a crippling Israeli-Egyptian blockade tightened when it seized power in Gaza in 2007, while Israel wants guarantees that the Islamic militant group will disarm.
In nearly a week of indirect talks, Egypt appears to have made little headway in resolving the differences. Late Monday, it secured a 24-hour extension to a temporary truce to allow more time for a last-ditch attempt to reach a longer-term deal.
On Wednesday the Egyptian Foreign Ministry expressed "deep regret" over the breaking of the cease-fire. It said in a statement that it "continues bilateral contacts" with both sides aimed at restoring calm and securing a lasting truce that "serves the interest of the Palestinian people, especially in relation to the opening of the crossings and reconstruction."
An Egyptian compromise proposal calls for easing the blockade, but not lifting it altogether or opening the territory's air and seaports, as Hamas has demanded.
While the plan does not require Hamas to give up its weapons, it would give Western-backed President Mahmoud Abbas, whose forces were ousted by Hamas in 2007, a foothold back in Gaza running border crossings and overseeing internationally-backed reconstruction.
Abbas' involvement would minimize friction with Israel and allow large amounts of international aid to flow into Gaza for reconstruction.
The disagreements have focused around the lifting of the blockade, with Hamas pushing for far more dramatic concessions than Israel is willing to offer.
The Gaza blockade has greatly limited the movement of Palestinians in and out of the territory of 1.8 million people, restricted the flow of goods into Gaza and blocked virtually all exports.
Israel says the blockade is needed to prevent Hamas and other militant groups from getting weapons, but critics say the measures have amounted to collective punishment.
The latest round of Gaza fighting was precipitated by Israel's arrest of hundreds of Hamas members in the West Bank in the aftermath of the abduction and killing of three Israeli teenagers in June. Their deaths were followed by the slaying of a Palestinian youth in Jerusalem in what was a likely revenge attack.
Click for more from The Times of Israel.
The Associated Press contributed to this report.