Ham thief leaves trail of fat behind him, leading cops to his front door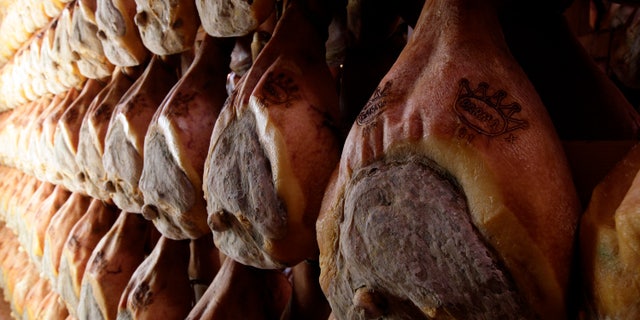 NEWYou can now listen to Fox News articles!
A robbery suspect in Spain seems to have come down with a case of the midnight munchies.
The careless guy stole seven legs of ham from a restaurant overnight Monday and led cops straight to his front door after leaving a trail of fat at the scene, The Local reports.
The unnamed suspect allegedly broke into the Los Caracoles tapas bar in the northwestern city of Sanlucar de Barrameda and stole the pricey Iberico hams hanging from the ceiling, along with $551 in cash and a TV.
After discovering the chaotic scene, the restaurant's owner Domingo Infante, 34, called police and a locksmith to fix the damage.
But before officers could arrive, Infante's wife and mother-in-law spotted a suspicious trail of grease outside.
"There were traces of fat everywhere, on the pavement outside the property, the stairs and even the front door," Infante told the media outlet.

The Spaniards followed the slippery slop to a house behind the tapas bar, where they caught the suspected thief.
"We didn't know whether to laugh or cry," Infante added. "It's like something out of a silly film."
Inside the home, police found two legs of ham, along with the stolen cash and TV.
The delectable meats were taken to the local police station as investigators tried to find the other missing legs, which are believed to be in the possession of the suspect's accomplices. Each leg is worth around $132.
"I've never imagined my wife and mother-in-law would turn out to be the detectives who solved this," Infante told The Local.
But it's not all sighs of relief for the family.
"We'd still like to get [the hams] back," Infante added.