Haley criticizes Russia, calling it 'complicit in the Assad regime's atrocities'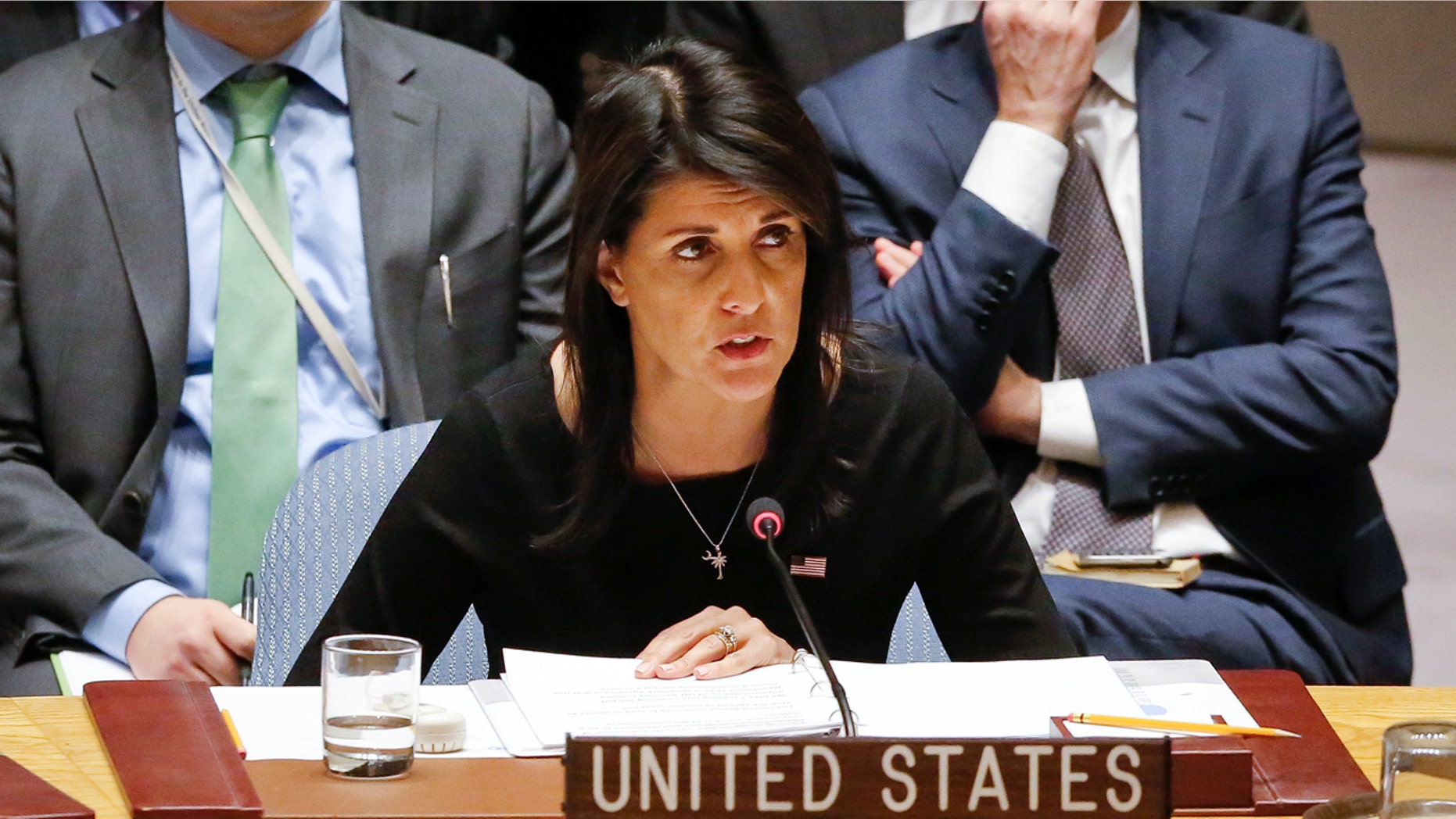 The U.S. ambassador to the United Nations, Nikki Haley, strongly criticized Russia at a Security Council meeting on Syrian chemical weapons on Tuesday, calling the nation "complicit in the Assad regime's atrocities."
The United States' condemnation comes as Russia has circulated a new draft resolution on the matter.
Russia's U.N. ambassador, Vassily Nebenzia, announced a proposal to replace the Joint Investigative Mechanism (JIM) on chemical weapons in Syria, which the Russians killed off by using their third veto last year. Nebenzia told the council that his proposal would see a new apolitical mechanism that would identify perpetrators using chemical warfare agents.
Haley, who spoke after her Russian counterpart, was highly critical of Russia's role in supporting the Assad regime.
TRUMP ADMINISTRATION WITHHOLDS FUNDING FOR U.N. PALESTINIAN REFUGEE AGENCY
"Russia, all on its own, killed the mechanism we had specifically tasked to identify those responsible for using chemical weapons in Syria," Haley said. "Russia should look in the mirror before bringing us into the Security Council to talk about chemical weapons."
Haley told fellow council members that she was concerned about reports of the Assad regime using chlorine gas this week. "We know the Assad regime resorts to these brutal tactics when they want to retake territory without any regard for innocent civilians and we know that for years, Russia has looked the other way while their Syrian friends use these despicable weapons of war."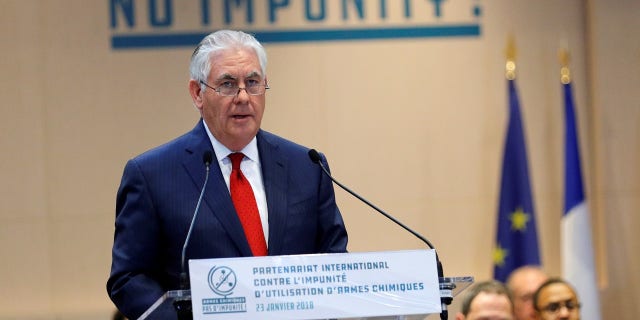 Earlier in the day, Secretary of State Rex Tillerson welcomed a French-led initiative that launched the International Partnership Against Impunity for the Use of Chemical Weapons. During its launch, Tillerson said Russia was shielding its Syrian ally.
Haley echoed Tillerson, adding her strong support for the French-led initiative and called it fitting that Russia would put forth its action on the same day. The initiative was signed by 25 nations with the aim of preserving information so that perpetrators could eventually be held accountable for their crimes.
Haley spoke of Russia's concerns about the French initiative, telling members that it had questioned the effort to collect facts.
"What can we conclude? Simply put, when Russia doesn't like the facts, they try and distract the conversation," Haley said.
For his part, Nebenzia criticized the U.S. for laying the blame on Russia for the JIM's failure. He questioned the timing of the latest chemical weapons attack in Syria and the announcement of the new French initiative on chemical weapons in Paris.
He said, through an official U.N. interpreter, "Does it not seem strange to anybody that this alleged episode, the veracity of which is to be confirmed and when necessary perpetrators to be identified some reason converges with the meeting in Paris and forthcoming Syrian national dialogue in Sochi a strange coincidence."
Nebenzia said the JIM was a complete failure and "became a mechanism for political manipulation."
Haley said that she would not accept a Russian proposal that would politicize and undermine future investigations. But she added she would work in good faith to re-establish the Joint Investigative Mechanism.
The JIM was established as an investigative mechanism to investigate the perpetrators of chemical weapons attacks in Syria. It found both the Assad regime and the Islamic State, or ISIS. guilty of doing so. Russia refused to vote for it to continue for another year, saying it had been politicized and that it could not accept the investigation against the Syrian regime.
Haley concluded: "So Russia can continue to talk for as long as they want about chemical weapons. They can bring this up in the Security Council chamber as often as they want. We welcome the debate. The United States and the international community are not going to be fooled."
The new Russian draft resolution was circulated to members of the Security Council on Tuesday afternoon. Nebenzia told reporters following the meeting that he expects consultations on his draft to perhaps start on Thursday or Friday.