Hagel addresses Arab leaders' concern over Iran deal, US commitment to region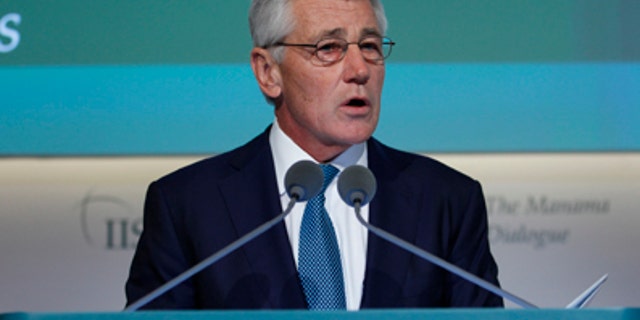 These are nervous times in the Gulf region. But they are not without hope. The interim nuclear deal struck by six major world powers and Iran last month could be the first step toward a new-- and less contentious-- regional landscape. But many Arab leaders worry Iran has simply bought itself time and a breather. They accuse Iran of meddling in their countries and stirring sectarian strife, and fear the Islamic Republic's activities won't diminish now that some of the pressure long put upon it has eased.
U.S. Secretary of Defense Chuck Hagel addressed those worries at the annual IISS Regional Security Summit in Manama, Bahrain.
"We have bought time for meaningful negotiations, not for deception," he said of the six-month deal, intended as a preface to a long-term agreement with Iran. "All of us are clear-eyed, very clear-eyed about the challenges that remain to achieving a comprehensive nuclear solution with Iran. I know Iran's nuclear program is only one dimension of the threats Iran poses to the region."
[pullquote]
The other region-wide worry is the U.S. will abandon its commitment to allied Arab states once concern over Iran diminishes. Hagel spent much time dispelling that notion, saying America's commitment to the region is "proven and enduring."
And he spoke about the U.S.'s plans to continue supporting regional ballistic defense, as well as a better coordinated defense system between the Gulf Cooperation Council nations. He also promised access to the U.S.'s most advanced, weapons systems, when suitable, to Israel and allied Gulf states.
Hagel also refuted the notion the U.S. had gone weak in light of forbearance concerning missile strikes against Syria, saying, "President Obama's resolve to take military action after the Assad regime used chemical weapons created an opening for diplomacy with Russia. This lead to the U.N. Security Council resolution and the involvement of the Organization for the Prevention of Chemical weapons, which put inspectors on the ground in Syria."
Hossein Mousavian, a former nuclear negotiator for Iran, asked Hagel why the lion's share of pressure had – over previous years - been applied to Iran, which does not yet have a nuclear weapon, rather than Israel, which does. Hagel replied that Iran is in violation of numerous U.N. Security Council resolutions.
Meanwhile, Iran's possible integration into the Gulf region as ally, rather than adversary, was discussed. The Islamic Republic had been on a charm offensive, of late. Saudi Arabia's Minister of State for Foreign Affairs, Dr. Nizar Bin Obaid Madani, reminded those in attendance that Saudis and their neighbors are desert people, and thus always trying to distinguish between an oasis and a mirage, meaning he hopes Iran's gestures toward engagement are the real thing.
There has been a lot of discussion about the fact the Gulf Arab states, as well as Israel, were not present at the negotiating table with Iran, and thus unable to directly promote their interests during the talks. Egypt's Foreign Minister, Nabil Fahmy, said, "Not only should the GCC (Gulf Cooperation Council) be involved in these negotiations, the Arab League should be, as well. Not necessarily negotiating partners, but closer."
Britain's Foreign Secretary, William Hague, acknowledged as much, adding Arab states not only needed to be kept closely in the loop but also made to understand the present engagement of Iran does not represent a realignment of long-standing alliances, but rather a single bargain, struck on behalf of all concerned.
"We have to see the nuclear deal as a transaction on the nuclear issue, which is in the interest of all the parties concerned," he said. "But it is a transaction at this stage and maybe it will turn into (more). Maybe it can provide opportunities for better relations, but that would depend not only on progress on the nuclear issue, but on changes in policy on the part of Iran on a whole range of other issues."