Gunmen Fire on Protests in Yemen, Kill Youth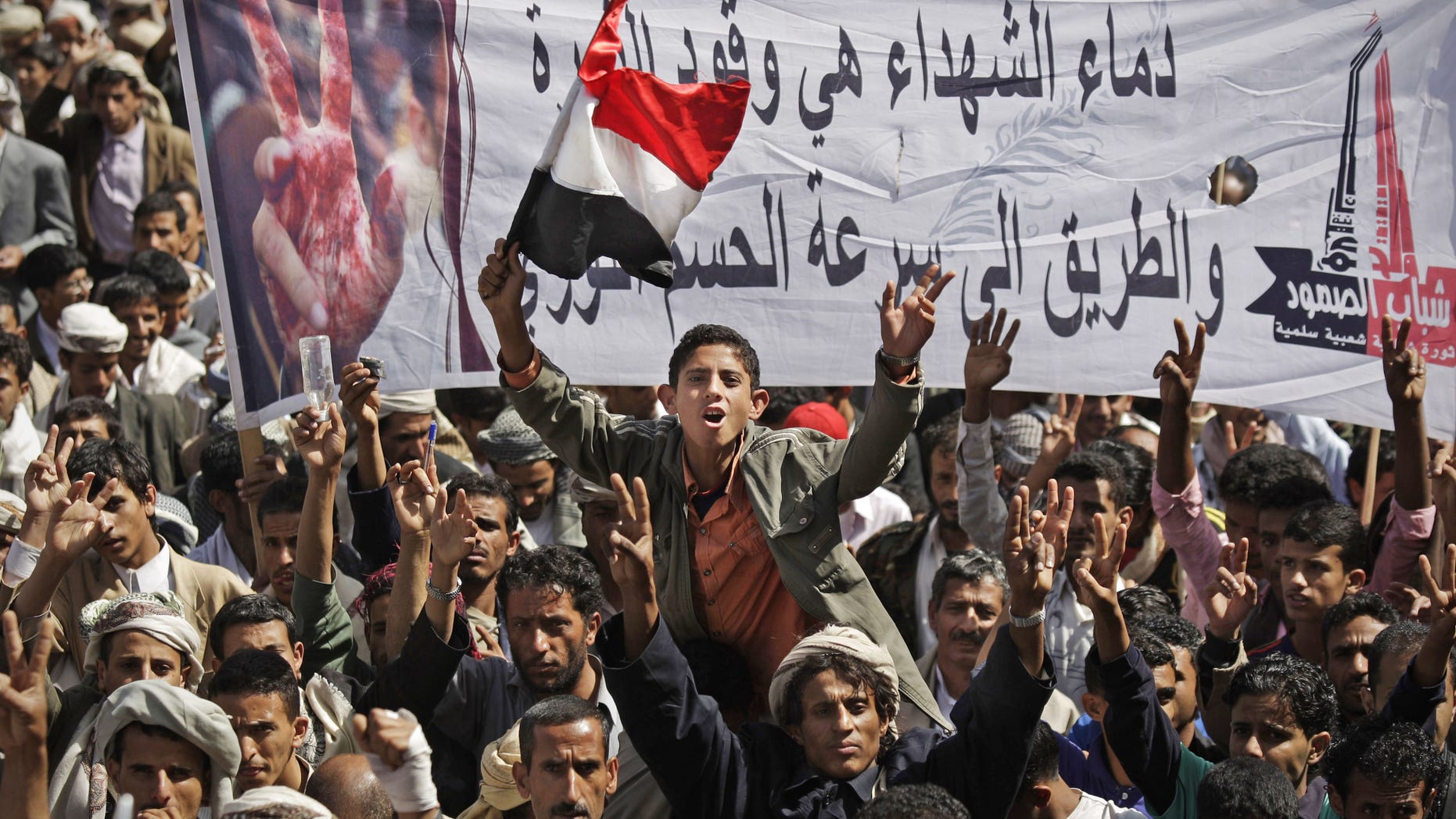 SANAA, Yemen -- Gunmen in civilians clothes opened fire on anti-government protests in two cities in Yemen Thursday, killing a 13-year-old boy and injuring a dozen others, a medical official said.
The attack came as thousands of activists marched in the capital Sanaa and in the central city of Taiz, calling for President Ali Abdullah Saleh to face trial for his government's crackdown on protesters.
For nearly 10 months, protesters have filled streets and public squares across Yemen, calling for the ouster of autocratic President Ali Abdullah Saleh, who has been in power for three decades.
While Saleh's security forces have used deadly force to suppress the protests, international diplomacy has failed to resolve the crisis.
Al Qaeda-linked militants have taken advantage of the internal turmoil to take over towns and villages in Yemen's south. The U.S. considers Al Qaeda's Yemen branch to be especially dangerous.
The U.N. Secretary General's special envoy to Yemen, Jamal bin Omar, arrived in the country Thursday to seek progress on a U.S.-backed proposal to end the crisis. The plan was put forward by Yemen's powerful Gulf Arab neighbors.
Under the plan, Saleh would step down and pass power to his vice president in exchange for immunity from prosecution. Saleh has agreed to the proposal three times, only to refuse to sign at the last minute.
Many Yemeni activists criticize the proposal for falling short of the democratic reforms and new government they want their uprising to achieve. Thousands took to the streets in Sanaa and Taiz Thursday to call for Saleh to stand trial for his government's deadly crackdown.
In both cities, gunmen in civilian clothes fired on demonstrators, witnesses said. The gunfire killed a 13-year-old boy and injured nine others in Taiz and wounded three in Sanaa, a medical official said.
He spoke on condition of anonymity because he was not authorized to brief reporters.