Guatemalan immigrants use dual citizenship to create underground economy across the border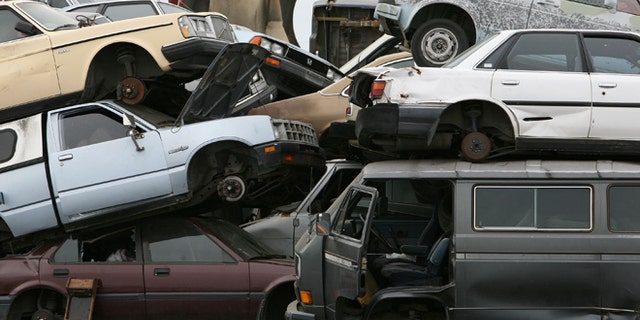 Old cars packed with clothing, bicycles and other odds and ends are making their way from the United States in caravans to markets in Guatemala, where they all the goods – including the old cars – are resold and repurposed.
It's a a small scale, immigrant-run industry, but a potentially dangerous situation as these entrepreneurs with dual citizenship travel through drug cartel-controlled parts of Mexico on their way south.
The cars are towed through Mexico to a particularly impoverished area of northern Guatemala, where they are fixed up with the accompanying spare parts and resold throughout the country in what Fronteras is calling "a small but sustainable economy" for Guatemalans.
"I buy those cars in the streets, like broken cars, and I fix them myself. That's the way I make my income," Maximo Ortiz, a dual citizen of Guatemala and the U.S. who lives in Tecún Umán told Fronteras. "I have no way to work. It's all I can do, drive and buy stuff and resell it in Guatemala."
Ortiz started buying and selling cars about four years ago in Los Angeles and San Diego and has moved his operations into Arizona and Texas, where he and a business partner began their journey south.
"I buy junk cars like this and fix it and bring it to Guatemala. I pay $800 for this one and a $100 on parts," he said, adding that he can make $3,200 per car in the Central American country.
The biggest worry for Ortiz is the trip through Mexico – particularly Tamaulipas and Veracruz – where large swaths of the state are controlled by organized crime groups and corruption is rampant. Many of the drivers are charged "taxes" by groups operating in the region and many Mexicans see these travelling salespeople as targets for extortion.
"It's certainly very intimidating. It's a no man's land, like a wild, wild west," an American who manages a business in Mexico and asked not to be named said of the region.
He added: "The drug cartels and the human smugglers, they have a lot of the enforcement agencies in their pocket. And it's just very scary to not know when you across one these guys whether he's one of the good ones or one of the bad ones."
Still the benefits seem to outweigh the risks for the hundreds of Guatemalans who make the trek every spring and summer to keep this underground economy alive.
"Things that are tossed away here turn out, in some cases, to be an economic driver in some of these small towns in Latin America," David Walstrom, a former community development worker in Latin America said.