Greeks Walk Off Job in General Strike Over Reforms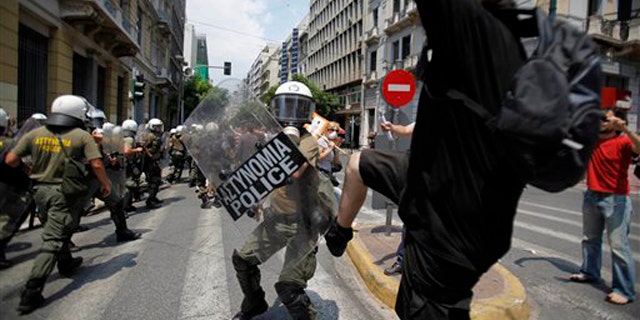 ATHENS -- Public services shut down across Greece Tuesday as workers walked off the job in a new nationwide general strike that disrupted public transport, left hospitals operating on emergency staff and pulled all news broadcasts off the air.
Tension mounted once more in the country's main port of Piraeus, where hundreds of demonstrators from Communist Party-backed labor union PAME attempted to prevent tourists and locals from boarding ferries to Aegean islands, even though a court had declared seamen's participation in the strike illegal. Although some ships did leave early in the morning, not all passengers managed to board.
A similar strike by two seamen's unions last week -- which was also declared illegal -- left thousands of travelers stranded for a day in Piraeus. Shipping companies and officials in Greece's vital tourism industry strongly criticized the government for not taking action to stop the strikers.
"They want to put us in a straitjacket so we work for free all our lives so that some can have their wealth and get very rich at our expense," said Sotiris Poulikogiannis, a protestor in Piraeus. "We don't accept this. Day by day we'll grow stronger and more aware of how to overturn this situation."
Tuesday's strike disrupted public transport, with bus, metro and tram drivers walking off the job for several hours. The country's airports, however, remained open, and international flights were operating normally although nearly 100 domestic flights were canceled.
All news broadcasts were pulled off the air for the day, while no newspapers would be printed for Wednesday as journalists walked off the job until Wednesday morning.
The general strike was called by debt-ridden Greece's two major private- and public-sector unions, who bitterly oppose draft legislation that will increase retirement ages and make it cheaper for companies to fire workers.
Unions also planned demonstrations, and dozens of PAME protesters gathered ahead of rallies in central Athens. They formed a human chain along a major avenue in front of the Tomb of the Unknown Soldier outside Parliament, hanging a giant banner from a crane calling on lawmakers to cancel the austerity measures while music blared from loudspeakers.
Parliament is to start discussing the proposed reforms Tuesday, in a debate expected to last more than a week. Despite opposition from several of its own lawmakers, the center-left government -- which holds a seven-seat majority in the 300-member house -- is expected to win the final vote.
Protests during previous strikes have turned violent, and three employees died on May 5 in a bank torched by rioters.
Greece is caught in a major debt and deficit crisis. It only avoided bankruptcy last month after receiving the first installment of a euro110 billion ($136 billion) emergency loan package from the European Union and the International Monetary Fund.
In return, Athens passed painful austerity measures, cutting pensions and salaries and raising consumer taxes.