Greek public TV resumes broadcasts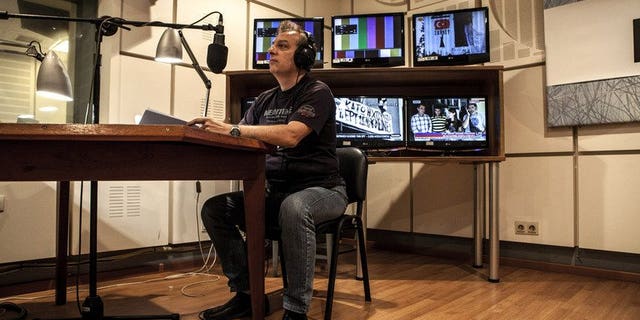 ATHENS (AFP) – Greek public television went back on air late Wednesday screening a movie, one month after the government abruptly pulled the plug on state broadcaster ERT causing national and international uproar.
The broadcaster started showing an old Greek movie, with the images on the screen freezing occasionally.
ERT's frequencies had been broadcasting a backdrop reading "Greek public television" (EDT) and featuring a globe and coloured waves since early on Wednesday.
Earlier the deputy minister responsible for public TV, Pantelis Kapsis, told AFP that broadcasts would resume and "will consist mainly of documentaries and a news ticker from news agencies."
The government plans to run a temporary programme for about two months, until new staff is hired for a new broadcaster to start running in the autumn.
"There will be an open call to journalists," Kapsis said.
Press unions have called a five-hour work stoppage on Thursday, to protest the government's broadcast of EDT from a private studio, without the participation of former ERT staffers.
The unions called Wednesday's broadcast "unconstitutional and undemocratic" in a statement.
On June 11, the government suddenly pulled the plug on state broadcaster ERT, making nearly 2,600 employees redundant.
The move caused national and international uproar and nearly brought down the government, forcing conservative Prime Minister Antonis Samaras to carry out a cabinet reshuffle.
Greece's top administrative court later ruled that ERT's shutdown was within the state's rights, but it told the government it still needed to have public broadcasts in some form as soon as possible.
The government has said ERT was hopelessly inefficient and ate up 300 million euros ($389 million) a year.
Refusing to accept their dismissal, ERT staff have taken over the station's headquarters north of Athens and have maintained a rogue broadcast since June 11, with help from the European Broadcasting Union.