Greek police use tear gas, stun grenades to quell anti-Obama protesters in Athens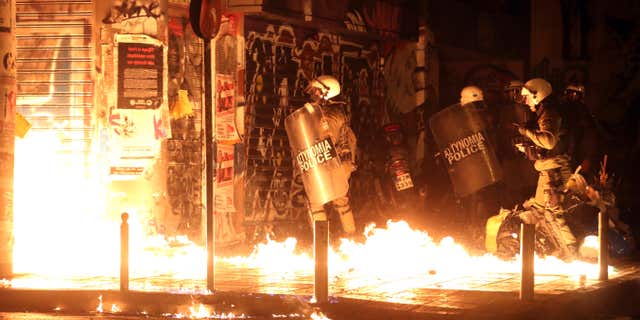 ATHENS, Greece – Greek riot police used tear gas and stun grenades Tuesday in Athens to disperse about 3,000 left-wing marchers protesting a visit by President Barack Obama after they tried to enter an area off-limits to demonstrators.
OBAMA DEFENDS LEGACY, TAKES SWIPE AT REPUBLICANS ON FINAL EUROPEAN TOUR
Police made at least four arrests and said one woman was slightly injured in the clashes, which took place far from Obama's meetings.
The violence broke out as youths in motorcycle helmets and gas masks, armed with wooden clubs and petrol bombs, tried to break a police cordon in front of a barrier formed by police buses. Rioters pulled back to the Athens Polytechnic university complex, site of a 1973 student uprising, and engaged in running street fights with police, throwing dozens of petrol bombs.
CLOCK'S TICKING: LOCAL GREEK GOVERNMENTS GIVEN UP TO 2,129 YEARS TO REPAY DEBT
Left-wing and anarchist groups who organized the protest had planned to reach the U.S. embassy in Athens. But authorities banned demonstrations in a large swath of the city to ensure that protesters came nowhere near Obama, who was attending a dinner at the residence of Greek President Procopis Pavlopoulos.
About 5,000 Communist party supporters took part in a separate, peaceful protest in central Athens and 1,000 people protested in Greece's second-largest city, Thessaloniki.
Communist party leader Dimitris Koutsoumbas described Obama's visit as a provocation.
"(The U.S.) is a state that causes military coups, interventions and imperialist wars from Ukraine to the eastern Mediterranean, the Middle East, North Africa, Asia and Latin America," he told supporters.
Tuesday's violence placed Prime Minister Alexis Tsipras' left-wing Syriza party in an uncomfortable position: Formerly a key participant in anti-American and anti-austerity protests, it is now using the same crowd control measures it used to strongly deplore.
There's a strong anti-American tradition among Greek left-wingers, who still resent U.S. support for Greece's 1967-74 military dictatorship.
Obama's visit comes just two days before the country's main annual anti-American demonstrations, which commemorate the bloody suppression, by military authorities, of the Polytechnic pro-democracy uprising.
The small Popular Unity party, which took part in the main protest Tuesday, described Obama's visit as "a provocation" due to that timing. Party leader Panayiotis Lafazanis also blamed the U.S. for Greece's economic woes.
The debt-crippled country depends on international bailout loans, and has been forced by creditors to implement deep income cuts, tax hikes, welfare cuts and economic reforms.
"American imperialism has not changed," Lafazanis said Tuesday. "The U.S. presidents and administrations have played — and still play — a leading part in the bailout-linked plundering of our country ... and their interventions are drowning our part of the world in blood and creating refugee waves."
The last visit to Greece by a U.S. president was by Bill Clinton in 1999, which was also marred by clashes between anarchists and riot police.