Greece Opens New Talks With International Austerity Inspectors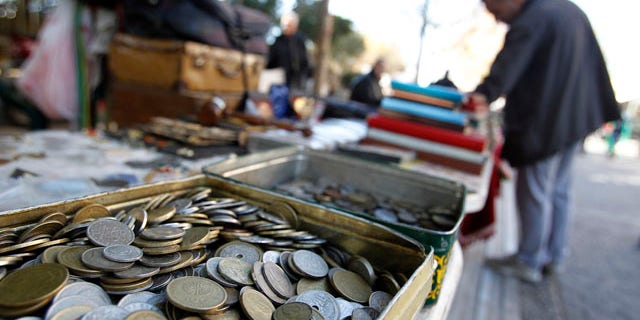 ATHENS, Greece – Greece opened new talks Monday with international austerity inspectors on a second rescue loan package agreed to weeks ago -- but not yet finalized -- to keep the debt-crippled country solvent while easing its crushing debt burden.
Finance Minister Evangelos Venizelos met representatives of the European Commission, the European Central Bank and the International Monetary Fund, on whose assessments Greece's cash lifeline depends.
Greece was granted a first, $147 billion bailout package by its European partners and the IMF last year. That became necessary after years of government overspending and tricky data reporting provoked repeated credit downgrades, which made it too expensive for the country to borrow from money markets.
The May 2010 deal staved off bankruptcy, and in return Greece imposed deeply resented austerity measures to cut its budget deficits -- slashing pensions and salaries while raising taxes and retirement ages.
But it soon became clear that the cutbacks were not working and loans were not enough, and in October a second $174 billion deal was agreed upon, although the details remain to be fully worked out.
The second deal also provides for a $133.8 billion debt writedown by private holders of Greek government bonds, on which complex talks with banks started last month and are expected to take several more weeks.
On Monday, Venizelos also met Charles Dallara, managing director of the Institute of International Finance global bank lobbying group, who is leading talks with Athens on the writedown.
Greece is heading for a fourth year of recession, amid high taxation and growing unemployment, which is hampering its efforts to restore fiscal health by drastically containing government overspending.
Preliminary data show that the economy will probably contract by more than the officially projected 5.5 percent in 2011. Lagging revenues also mean the government will be challenged to meet its deficit target of 9 percent of Gross Domestic Product this year -- and a projected primary surplus in 2012.