German government coalition argues over idea of 'transit zones' at border to stem migrant flow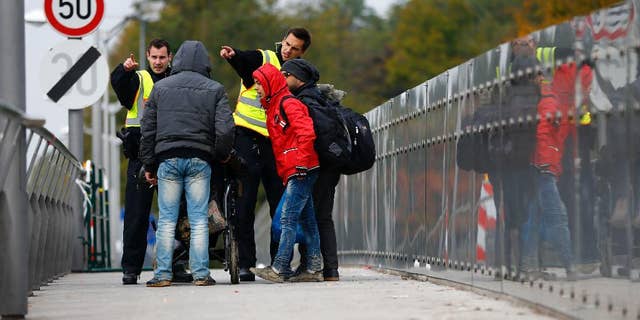 BERLIN – Germany's governing coalition is arguing over whether to set up "transit zones" on the country's border in an effort to weed out quickly migrants who have no realistic chance of winning asylum.
Chancellor Angela Merkel's conservative bloc is pushing the idea. Its Bavarian branch, the Christian Social Union — which has called, so far in vain, for a clear signal from Berlin that Germany has reached the limits of its capacity to welcome newcomers — is particularly keen.
The proposal would entail extending to Germany's land borders a system in place at airports, where migrants arriving from countries considered safe or people without papers can be held for two days without formally entering the country while their asylum applications are considered.
Merkel has said the idea could help "in certain cases," such as where people have thrown away their identity papers. But she added that that the process wouldn't work "for thousands and thousands of refugees."
It remains unclear exactly how the "transit zones" would work and Merkel's center-left coalition partners are deeply skeptical.
Vice Chancellor Sigmar Gabriel, who has said the proposal appears aimed mainly at smoothing over recent differences among the conservatives, said Wednesday his Social Democrats wouldn't back a system that entails people being interned at the border.
Putting all newcomers into camps at a time when 6,000 to 10,000 people a day are arriving would lead to "enormous facilities with large numbers of people formally taken into custody," he said. "I don't think that is legally possible, and I think it would lead to conditions we don't want to have in Germany."
Germany has seen large numbers of people from Albania, Kosovo and other Balkan countries who have virtually no chance of gaining asylum arrive this year. It already is moving to declare those countries "safe."
Gabriel said arrivals from there already are falling sharply and it's important to ensure that those who have arrived leave faster.