German court sentences US airmen's killer to life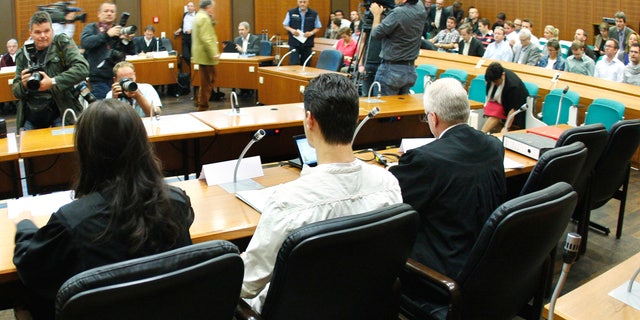 FRANKFURT, Germany -- An Islamic extremist who killed two U.S. airmen bound for Afghanistan at Frankfurt airport last year and injured two others was convicted of murder and sentenced to life in prison on Friday.
The state court in Frankfurt convicted 22-year-old Arid Uka of two counts of murder. It also found him guilty of three counts of attempted murder and serious bodily harm for wounding two other servicemen and taking aim at a third before his 9 mm pistol jammed.
Uka, an ethnic Albanian from Kosovo, killed Senior Airman Nicholas J. Alden, 25, from South Carolina, and Airman 1st Class Zachary R. Cuddeback, 21, from Virginia in the March 2 attack on the Afghanistan-bound servicemen as they were boarding a bus at the airport.
Judge Thomas Sagebiel ruled that Uka bears "particularly severe guilt," citing the nature of his ambush on the soldiers, the fact he shot unarmed people from behind and the severity of the injuries he inflicted.
That means he won't immediately be eligible for parole after 15 years as is usual in Germany.
Uka smiled and chatted with his lawyers before and after the sentence was announced, then sat with his eyes closed and his head downturned as the judge detailed his reasoning.
"I'm satisfied. I'm at peace. There's a huge weight off our shoulders," Nicholas Alden's brother, Joe, said in the courthouse after the ruling.
"I think justice has been served -- I think he got what he deserved and I think the court did a great job," said Alden, of Indianapolis. "I wish there was more they could do but he got the maximum."
Prosecutors said Uka was an example of a lone-wolf extremist who became radicalized on his own by reading and watching jihadist propaganda on the Internet. During the trial, they introduced as evidence dozens of files containing songs and written material pulled from his cell phone, music player and computer.
Uka, who worked as a temporary mail sorter at the airport, testified that he wanted to stop U.S. service personnel from going to Afghanistan after viewing a video on Facebook that purported to show American soldiers raping a teenage Muslim girl. It turned out to be a scene from the 2007 Brian De Palma anti-war film "Redacted," taken out of context.
Although Germany has experienced scores of terrorist attacks in past decades, largely from leftist groups like the Red Army Faction, the airport attack was the first attributed to an Islamic extremist.
Since the Sept. 11, 2001, attacks, there have been about a half-dozen other jihadist plots that were either thwarted or failed -- including a 2007 plan to kill Americans at the U.S. Air Force's Ramstein Air Base.
The airmen at Frankfurt airport were part of a security team traveling from an air base at Lakenheath in Britain.
As they loaded their bus in front of the airport, Uka approached the soldiers and asked for a cigarette, then asked if the group was headed for Afghanistan. Told that it was, Uka pulled a pistol from his backpack and shot the unarmed Alden point blank in the back of the head.
He then boarded the bus and fatally shot Cuddeback, the driver, before turning the gun on two more airmen, Staff Sgt. Kristoffer Schneider and Edgar Veguilla. The weapon jammed as he pointed it at Staff Sgt. Trevor Brewer, who testified that Uka had "hate in his eyes" and said "Allahu akbar" -- Arabic for "God is great."
Schneider, who testified by video link from an Air Force base in Grand Forks, North Dakota, was shot in the right temple and lost the sight in one eye. The right side of his face had to be rebuilt with titanium and titanium mesh, and he testified he suffers continuing eye and head pain and has had a seizure. Part of his skull had to be removed after an infection.
Veguilla was hit in the jaw and arm and testified he has numb fingers because of nerve damage.