German city bans new refugees amid anti-migrant mood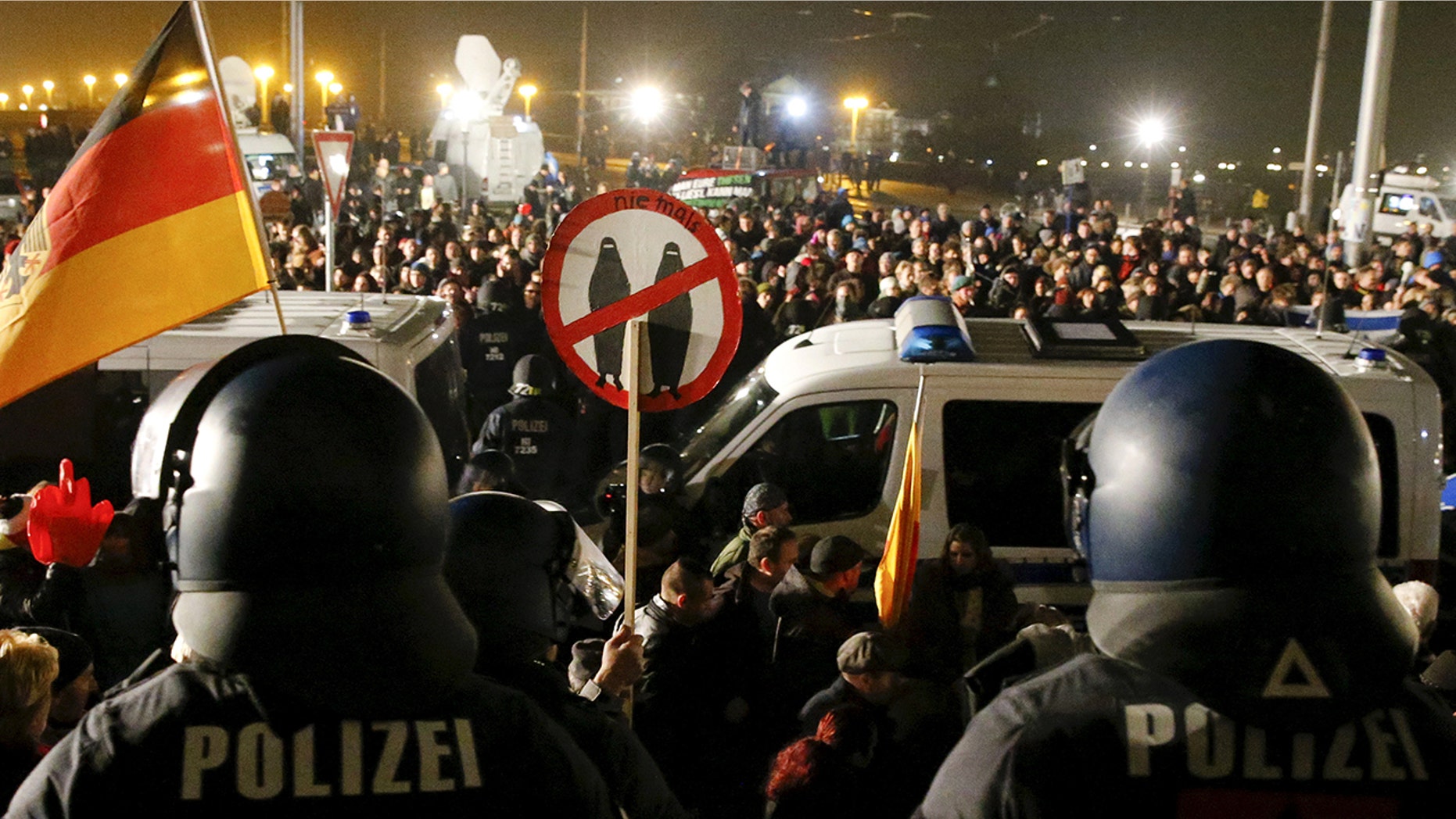 A German city that's become a focal point of right-wing extremists temporarily banned new refugees in an attempt to stem a surge in violence there.
Cottbus, located southeast of Berlin, has been hit with attacks from refugees and far-right extremists since the start of this year.
Brandenburg state police said two Syrian teenage boys were arrested under the suspicion of injuring a German teenager in the face with a knife, the Telegraph reported.
The 16-year-old reportedly sustained injuries that were not life-threatening in what started as a fight between Syrian and German schoolmates.
GERMANY OFFERS MONEY FOR MIGRANTS TO GO BACK HOME
That fight unfolded just days after a group of three Syrian asylum-seekers, aged 14, 15 and 17, attacked a man and his wife outside a shopping center, police told the Telegraph. Officials handed the 15-year-old a "negative residency permit" effectively ordering him and his father to leave the city.
Cottbus, a small university center with just over 100,000 residents, has taken in around 3,000 asylum seekers since embattled German Chancellor Angela Merkel opened the country to a large number of refugees in 2015.
Coupled with a lackluster economy, the influx has fueled anti-immigrant sentiment among German citizens, and Cottbus is home to one of the country's largest right-wing extremist scenes.
Authorities counted 145 right-wing radicals living in Cottbus last year, Express Digest reported.
A community group told local media that neo-Nazis had assaulted refugees on the morning of New Year's Day, while last weekend a group of around 100 masked neo-Nazis marched in an illegal demonstration through the city.
SPAIN RESCUES 56 MIGRANTS CROSSING MEDITERRANEAN SEA
Brandenburg's state interior minister Karl-Heinz Schroeter told a German broadcaster on Friday that the ban on new refugees would stay in effect "for the next few months."
The city also will take safety measures including increased video surveillance, a larger presence of police officers and 10 new social worker positions throughout local schools, officials said.
A Cottbus police spokesperson told The Telegraph that officers were being deployed on daily foot patrols of the city from late afternoon to evening "for as long as it serves its purpose."
Cottbus is not the first German city to impose a refugee ban. Last year the towns of Salzgitter, Delmenhorst and Wilhelmshaven in the northern state of Lower Saxony implemented a prohibition.