German anti-Islam leader steps down over refugee slurs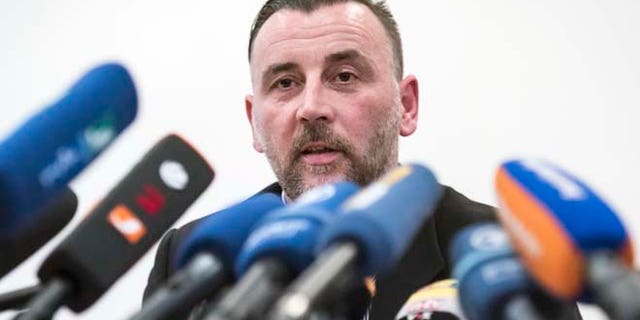 BERLIN – The leader of a German organization against the perceived "Islamization" of Europe has stepped down and apologized after online comments surfaced where he defaced refugees as "cattle" and "filthy."
Lutz Bachmann, co-founder of the Patriotic Europeans against the Islamization of the West, or PEGIDA, said in a statement on Facebook Wednesday that he was sorry for offending anyone with his postings. He called them "ill-considered comments that I wouldn't make in this way today."
He also apologized for harming the movement, which has staged weekly demonstrations in the eastern city of Dresden that reached their peak last week, drawing 25,000 people.
Bachmann didn't comment directly on a picture, published Wednesday by top-selling tabloid Bild, showing him sporting a Hitler mustache and hair combed over like the Fuehrer.
PEGIDA's spokeswoman, Kathrin Oertel said the picture had been satire, but the comments about refugees and German politicians hadn't "contributed to the trustworthiness" of the group.