George Zimmerman Spotted At Florida Gun Manufacturer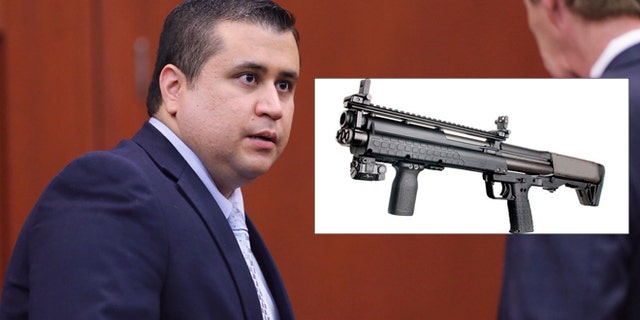 Marking his third appearance in public since being acquitted of second-degree murder in the death of Florida teenager Trayvon Martin, George Zimmerman showed up Thursday at a gun dealer in Cocoa Beach, Florida.
The gossip website TMZ released a photo of Zimmerman shaking hands with an unidentified employee of Kel-Tec gun manufacturer, where he was allegedly looking into purchasing a Kel-Tec KSG pump-action tactical shotgun.
The 12-round, 12-gauge shotgun, which retails for just under $1,200, is manufactured by the same company that made the PF-9 gun that Zimmerman used to kill Trayvon Martin.
While there is no word if Zimmerman purchased the firearm, he was given a tour of KelTec manufacturing plant and posed for the photo op with the unnamed employee.
Zimmerman was found not guilty on all charges for killing Martin, which he maintained all along was in self-defense. Martin's killing unleashed a furious debate across the U.S. over racial profiling, self-defense and equal justice.
The jurors considered nearly three weeks of often wildly conflicting testimony over who was the aggressor on the rainy night the 17-year-old was shot while walking through the gated townhouse community where he was staying and where Zimmerman lived. None of the witnesses who were called had a clear view of their encounter.
Zimmerman wasn't arrested for 44 days after the Feb. 26, 2012, shooting as police in Sanford insisted that Florida's Stand Your Ground law on self-defense prohibited them from bringing charges. Florida gives people wide latitude to use deadly force if they fear death or bodily harm.
Martin's parents, along with civil rights leaders such as Sharpton and the Rev. Jesse Jackson, argued that Zimmerman — who identifies himself as Hispanic — had racially profiled their son. And they accused investigators of dragging their feet because Martin was a black teenager.
Last month Zimmerman was pulled over for speeding in North Texas on a Sunday afternoon.
When he was stopped, Zimmerman informed police officers that he had a gun in his glove compartment. Since he has a concealed handgun license, the firearm was considered legal as long as he notified the police of its existence.
After receiving the warning, he was let go after about five minutes, once the police had determined there were no warrants out for his arrest.
Follow us on twitter.com/foxnewslatino
Like us at facebook.com/foxnewslatino