Gang of youth attacks cops near Paris; video of assault posted online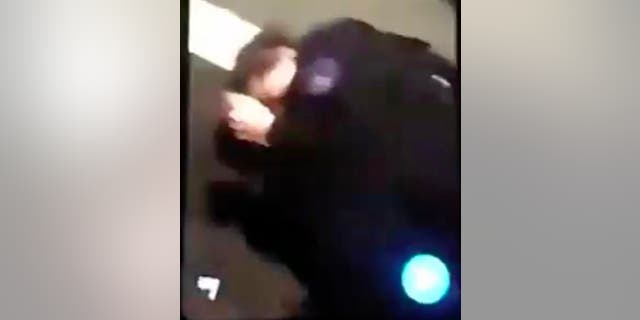 NEWYou can now listen to Fox News articles!
A female police officer and her boss were attacked in a suburb of Paris by a group of young people who then posted videos of the attack online, reports said.
The officer — who has not been named — was recorded being kicked around violently as the attackers around her whooped and screamed in the suburb of Champigny-sur-Marne, southeast of the French capital. Her colleague was so badly hurt that, according to The Mirror, he was forced to remove his pistol from its holster, but he did not get a shot off.
Investigators said the officers suffered concussions and other injuries, but their condition was not life-threatening.
WARNING: VIDEO MAY BE DISTURBING
In the videos posted online, the youths also jumped on top of a car that had been flipped on to its roof.
In the video, an unidentified woman used French street slang to say: "The evening has really gone wrong! Goodness! Poor copper!"
Police originally were called to the address where a New Year's party was taking place, AFP reported.
A number of people had been turned away from the house, which led to fighting in the street, according to The Daily Mail. The officers were attacked when they arrived at the scene.
The footage on social media has sparked outrage across France. President Emmanuel Macron promised to bring those responsible to justice.
"Those guilty of the cowardly and criminal lynching of police doing their duty on the night of December 31st will be found and punished," he said. "Force will support the law. Honor to the police and full support to all the agents attacked in such a low level fashion."
French interior minister Gerard Collomb said after the attack: "I just spoke with the police officers assaulted. Everything is done to ensure that the cowardly perpetrators of these unspeakable acts are apprehended and sentenced. To attack our security forces is to attack our Republic."