Fugitive Indian diamond tycoon's art collection worth millions to be auctioned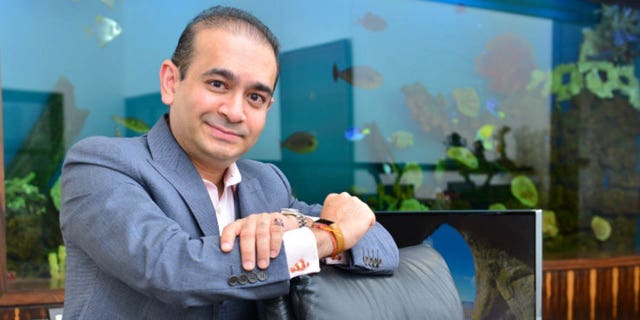 NEWYou can now listen to Fox News articles!
Sixty-eight pieces of art owned by Indian diamond tycoon Nirav Modi, whom state authorities accuse of being involved in a $1.8 billion bank fraud, will be auctioned Tuesday.
Modi, 48, who is one of India's richest men and believed to be worth $1.75 billion, was arrested in London last Tuesday and ordered to be held without bail. Indian authorities have sought Modi's arrest since February 2018, when they alleged companies he controlled defrauded the state-owned Punjab National Bank by using fake financial documents to get loans to buy and import jewels.
Police in India later raided the homes and offices of Modi and business partner Mehul Choksi, seizing nearly $800 million in jewels and gold. The men are thought to have left India before the alleged fraud was discovered.
UK POLICE ARREST WEALTHY INDIAN JEWELER NIRAV MODI
His collection, which includes rare oil paintings and works by Raja Ravi Varma and V.S. Gaitonde, will be auctioned. A piece from his collection, "Untitled," was sold at an auction in Mumbai in 2015 for $4.4 million, the BBC reported. Auctioneers said they believed a Varma painting could be auctioned for up to $2.5 million. Officials said the art is expected to "fetch anywhere between $4.4 million to $7.3 million," Reuters reported.
"We believe that the collection's intrinsic value will garner a positive response from collectors," Dinesh Vazirani, the Saffronart's chief executive told Reuters.
INDIAN DIAMOND TYCOON ARRESTED IN LONDON OVER ALLEGED ROLE IN $2 BILLION BANKING SCANDAL
Modi has denied the allegations and has sought political asylum in the U.K. His jewelry has been worn by stars such as actress Priyanka Chopra-Jonas.
The Associated Press contributed to this report.